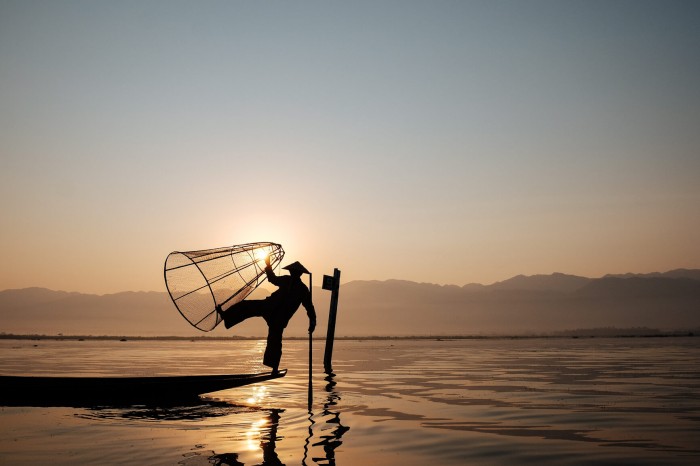 Travelling to Myanmar has never been safer, convenient and accessible – it has been opening up to foreign visitors in recent years, with many travelling to this alluring land for its picturesque pagodas, temples and lakes.
After decades of harsh military rule, Myanmar is currently undergoing a period of transition to develop itself. With that in mind, it's likely that many will find the lack of developed infrastructure annoying.
This post is a part-travelogue, part-guide to help people who are interested in travelling into Myanmar plan for their trip. Many are still using travel agents for their trip, and I am here to share how you can plan one without paying ridiculous commissions. We spent a total of $950 per person for a week-long trip to Myanmar (Yangon-Bagan-Inle Lake-Yangon) inclusive of all spending, accommodation and flights. While some of you might baulk at the high price,  you must understand that this is already much cheaper than travel agencies (they cost at least $1600 exclusive of spending!) and Myanmar imposes a lot of tourist tax that goes to the government.
Read on when you're ready, or bookmark this page if you'd like to revisit this post.
Pre-Departure Travel Guide
1. Visa
Myanmar requires all visitors to have a Visa, including members of ASEAN states. To make a Visa, you'll have to visit this online portal and schedule an appointment for Visa processing and collection. A total of S$35 application fee plus S$10 processing fee is required per person. You will send your processing request in the morning between 8.30am to 12pm and collect it at the embassy in the afternoon between 4.30pm to 5.30pm. This Visa allows you to stay in Myanmar for 28 days, extendable by 14 days.
Edit (Sep 2016): From 1 Dec 2016, Singaporeans travelling to Myanmar for short trips below 30 days will no longer need to apply for a visa.
2. Flights
Flying into Myanmar from Singapore should be easy, with many airlines (including budget ones like Jetstar) flying into the Yangon. We flew Jetstar at about S$250 per person for a morning flight — flight duration is 3 hours and Myanmar has a time difference of 1.5 hours behind Singapore; so you merely 'lose' 1.5 hours on the flight there.
P.S. You could also choose to fly into Mandalay or Naypyidaw, the capital city.
3. Accommodation
In the past, hotel rooms fill very fast as Myanmar becomes an increasingly popular tourist destination. As more hotels were built over the recent years, I had no trouble booking my hotels about 2-3 weeks before departure. It is best to pay for your hotels in advance to avoid complications and the language barrier when communicating with hotel staff. Most Burmese speak simple conversational English but have trouble understanding complex sentences and words.
In any case, we booked via Agoda (you can use any major booking websites) and a decent 3-star twin room hotel with breakfast should cost about S$30-50 per night. You can also use overnight buses to save on accommodation which we did for our first night – more details later.
4. Bookings (Internal Flights & Buses)
We also settled our internal flights and buses before departure for a peace of mind. Flying from place to place in Myanmar can be done through an internal flight, train or bus. We booked our internal flights via OWAY (you can use any booking portal, so do shop around), and they issued us e-tickets (in PDF format – do save it for offline use) for our flights. Note that internal flights are not cheap, they come at around US$80-110 depending on destination – so you might want to factor this into your budget consideration.
To save on one night's accommodation and one internal flight from Yangon to Bagan, we took an overnight bus with Joyous Journey (JJ) Express, which offers VIP seating (i.e. leg rests, blanket, food) at US$19 per person. It's an eight-hour bus journey on the highway, leaving Yangon at 8pm and reaching Bagan at 5am in the morning, just in time for sunrise.
P.S. The bus journey is moderately comfortable and safe. You get three rest stops along the way, so you don't really get a peaceful, uninterrupted night's sleep. Nonetheless, for US$19, it's a steal compared to paying US$90 for a flight, not forgetting hotel as well. There are other bus companies offering the same route, at possibly a lower price, so do shop around.
5. Weather & What to Pack
The weather in Myanmar is extremely hot, with temperatures above 40'C in Yangon in the day especially in the middle of the year. I am not kidding you – the temperature is so high that sometimes you wouldn't want to leave your hotel. Choose your travelling period wisely, as it is usually much cooler towards the end and the start of the year. Although scorching hot temperatures may seem like a bane for travelling, the humidity level is lower than Singapore.
Bring along light, airy clothing during the summer months and also long pants/jeans that cover the knees if you're going to visit pagodas and temples during your visit. This will save you US$8 if you're rejected entry and have to buy clothing to cover them. A jacket is recommended for overnight buses, planes and an early morning boat trip on Inle Lake.
6. Currency & How Much to Change
Myanmar accepts US Dollars (US$) at major hotels or Kyat (K, pronounced like 'jiat') in daily spending. A rough conversion I use is 1000K = US$1 = S$1.35, although rates at the airport are more like US$1 = 1150K. Do change a fair amount of Kyat for daily expenditure such as bottled water and meals. US-dollars are accepted usually for entry fees to pagodas and temples.
7. 3G & WiFi
I strongly recommend picking up a 3G SIM card from the Airport from major telcos (e.g. MPT, Oredoo) as WiFi in hotels is terrible and unreliable. You will not be able to use WiFi reliably at almost every hotel due to infrastructure issues, which is already well-known by locals.
We picked up a 1.35GB 3G-SIM for 8500K (1500K registration fee + 7000K for a 1.35GB 3G data plan). A cheaper option you can consider if you don't need so much data is 3000K for 550MB. They will do the installation for you on the spot and they have nano/micro-SIMs for sale. Activation takes less than five minutes but the queue for this might get a little long since there's only one small counter for this service.
8. Is Myanmar Safe?
In short, Myanmar is generally safe – safe enough for walking in the dark at night, not getting robbed in the day and safe enough from natural disasters. However, tap water is not potable and it is recommended to drink bottled water whenever possible. At temples and pagodas, you can find water dispensers offering filtered water via reverse osmosis, similar to NEWater. I've tried them and I think they are fine. They are safe to drink but if you want to spend money on bottled water (250-400K for 1L) for a peace of mind, that's perfectly fine too.
However, tap water is not potable and it is recommended to drink bottled water whenever possible. At temples and pagodas, you can find water dispensers offering filtered water via reverse osmosis, similar to NEWater. I've tried them and I think they are fine. They are safe to drink but if you want to spend money on bottled water (250-400K for 1L) for a peace of mind, that's perfectly fine too.
9. Resources
Useful resources for planning your trip to Myanmar include Wikitravel, Lonely Planet guidebooks and TripAdvisor.
Travelogue
Day 1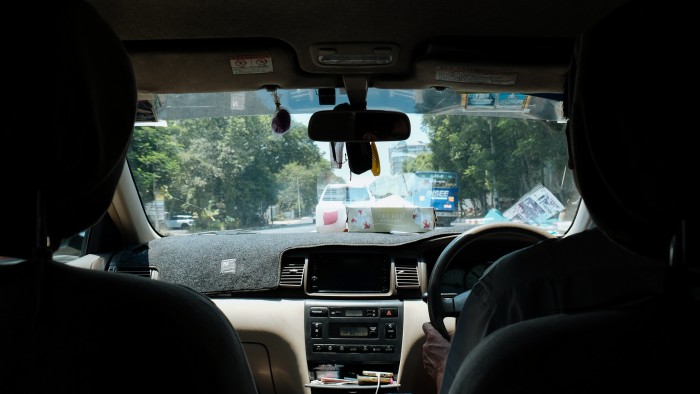 On arrival at Yangon International Airport, we took an hour-long cab to the city centre. Cabs cost around 8000-10,000K depending on how much you can haggle. The cab journey is also extremely long due to the terrible traffic jam along the way.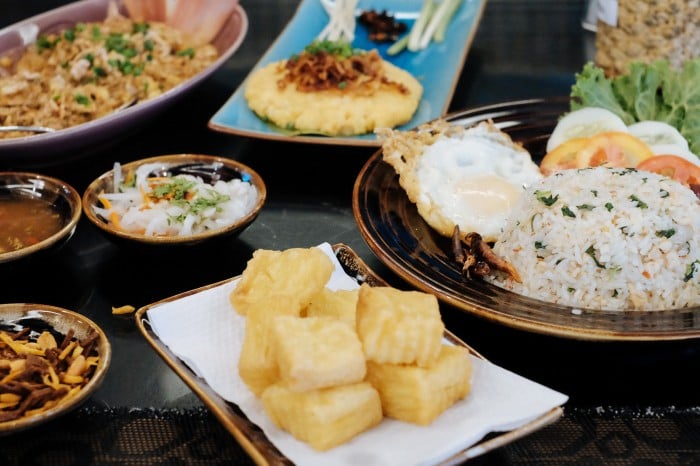 Our first Burmese meal in Yangon – we ordered about US$50 worth of dishes at Shan Yoe Yar. A pretty nice place for good Burmese food, although it's a little on the expensive side. They also helped us store our luggage while we explored around the city.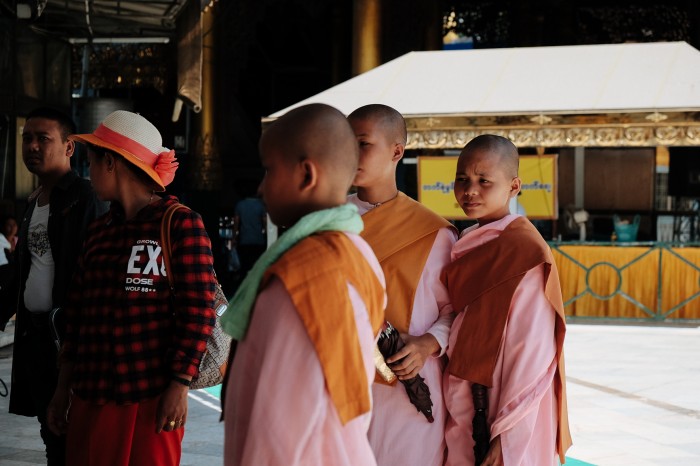 Visited Sule Pagoda as our first destination to spend the afternoon. Entrance fee to this place is US$3, and it's definitely less crowded compared to the more popular Shwedagon Pagoda.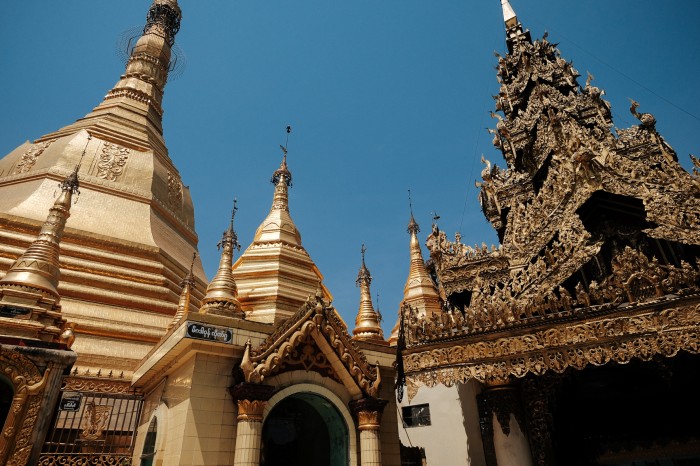 Not the biggest or grandest pagoda in Yangon, but it's still a pretty sight!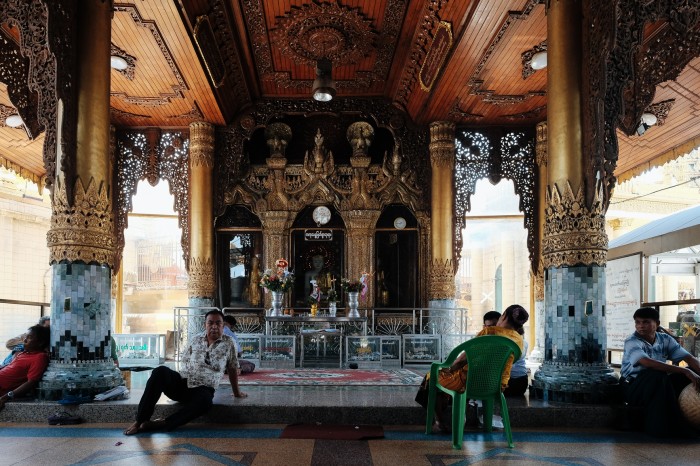 The interior of the pagoda — the lack of tourists is kind of a shocker, but you get a chance to interact and immerse yourself in their local culture without the touristy vibe.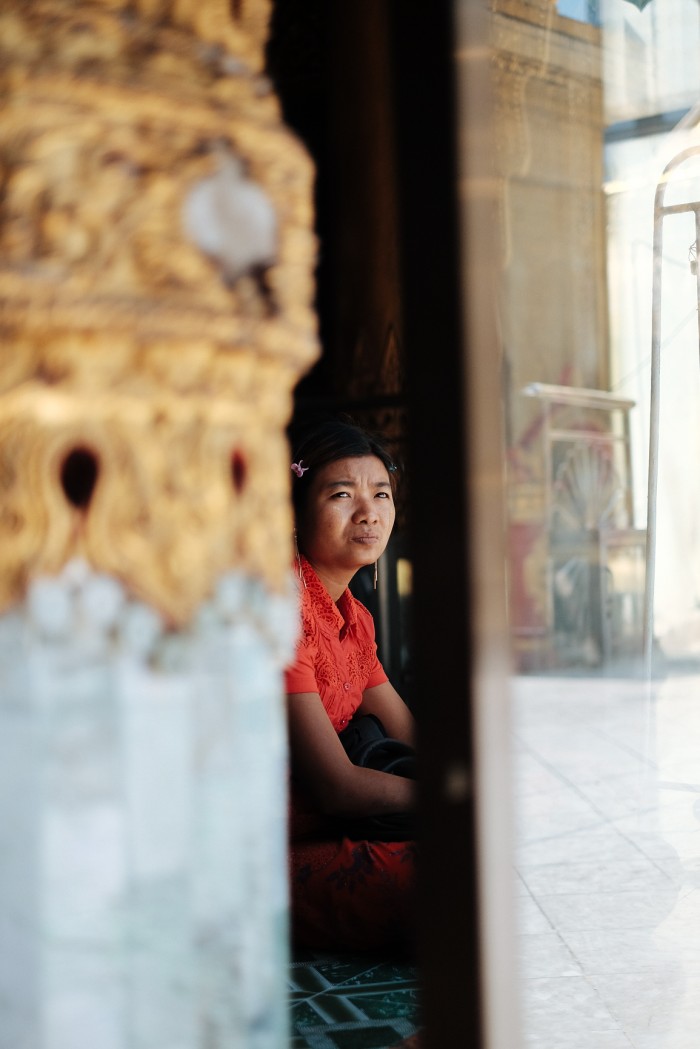 A Burmese woman gazing into the sky.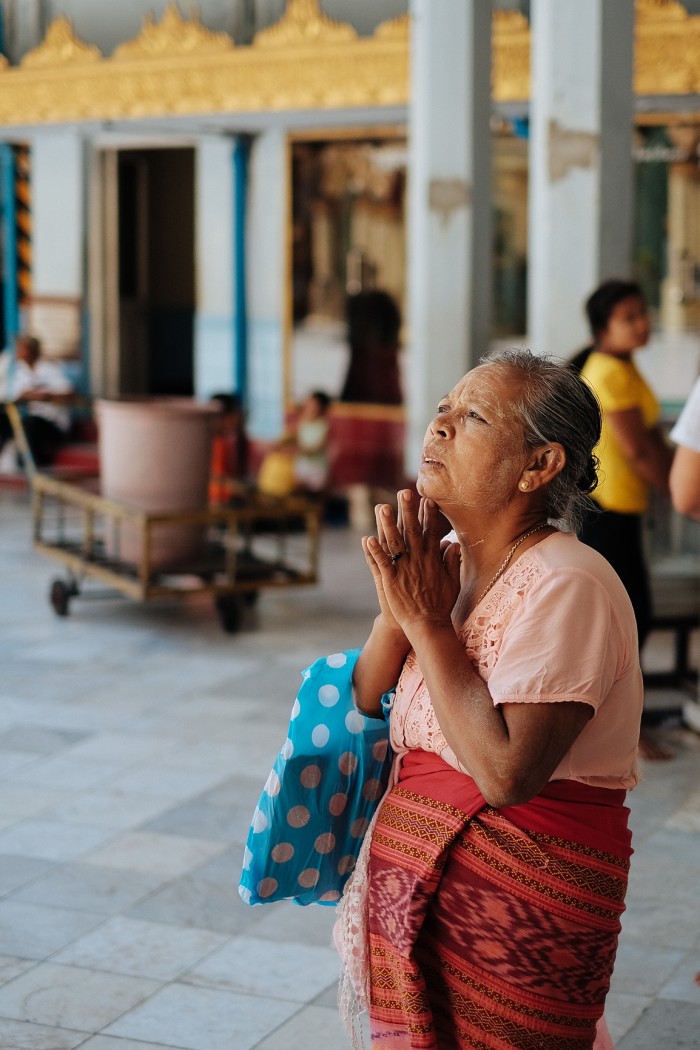 Lots of interesting locals to photograph, although lots of care is needed to avoid stepping into their comfort zone. Ask for permission if needed, but I was rarely rejected.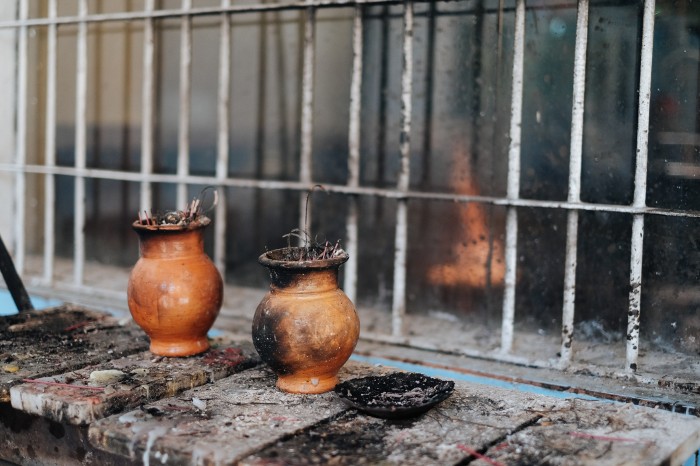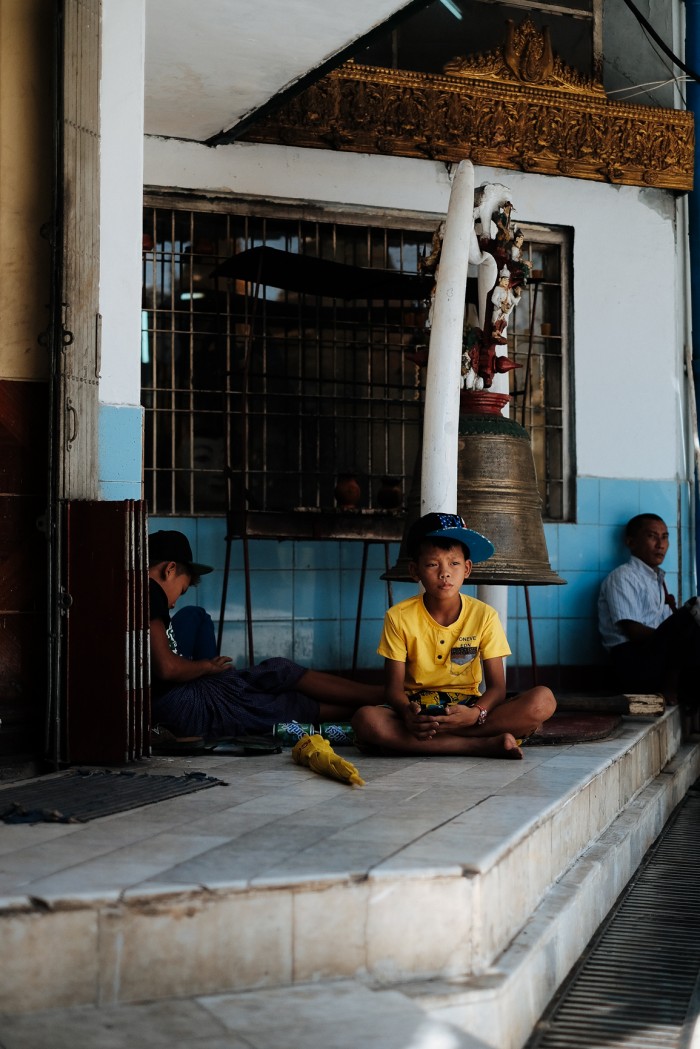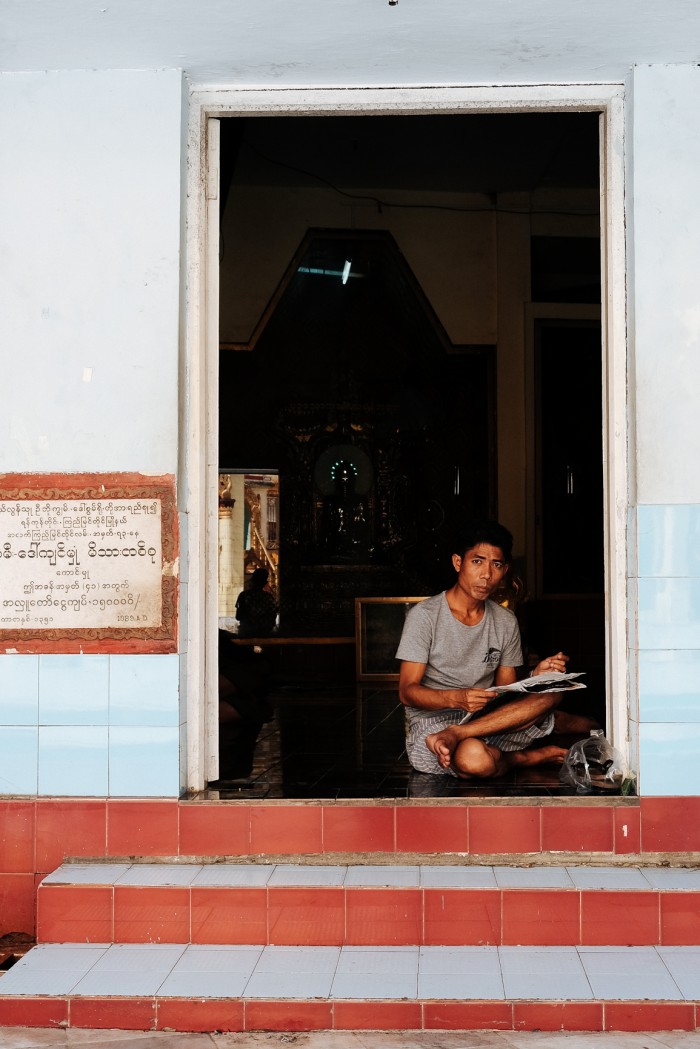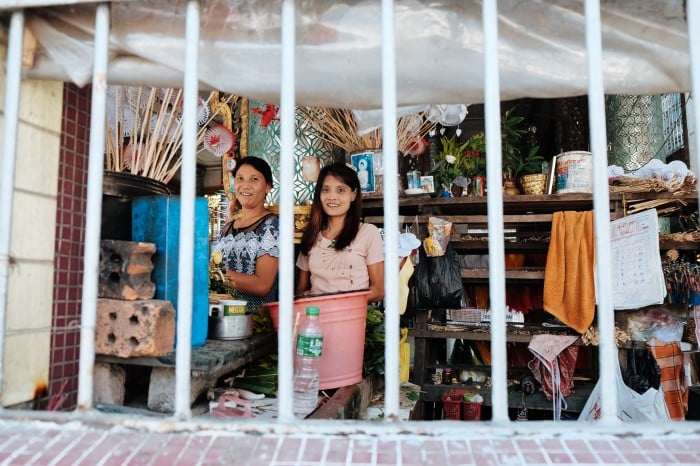 Burmese people are really friendly. This is a portrait of two Burmese woman selling ornaments at the pagoda gates.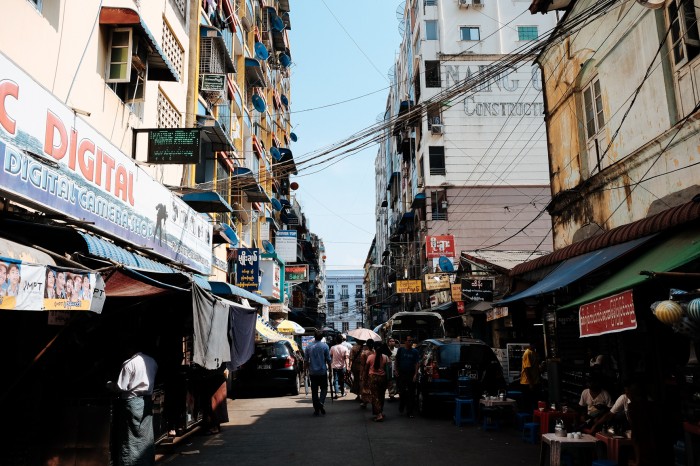 After walking about three rounds around the small pagoda, we decided to head out to the streets. Weather is a high 36-40'C in the afternoon, so it's wise to bring lots of water with you.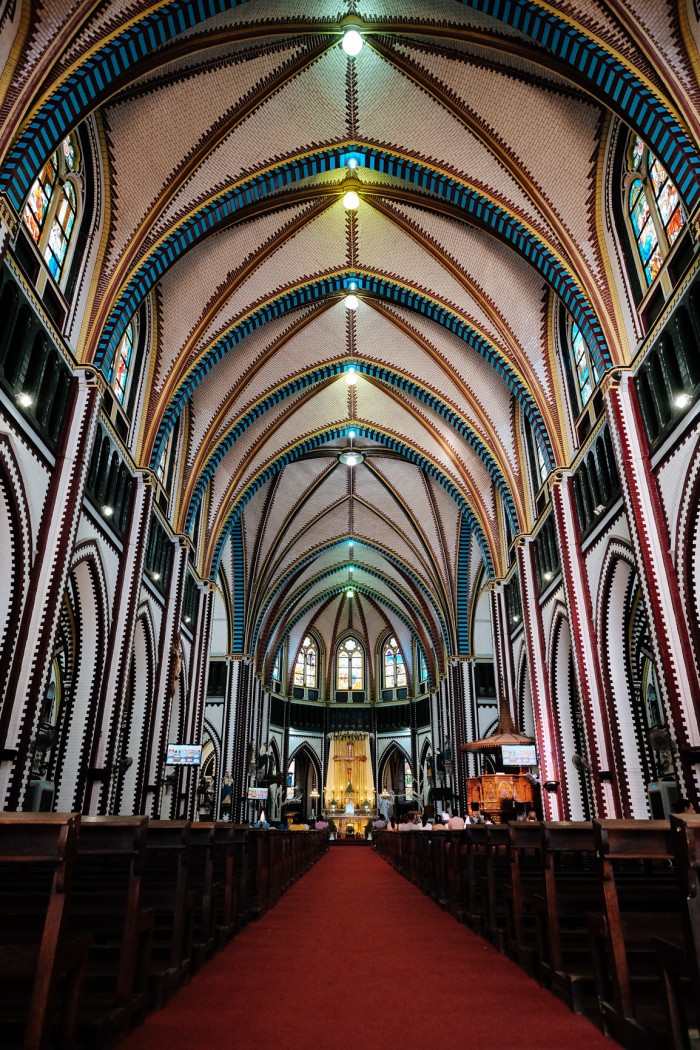 While a majority of the Burmese population are Buddhists, there exists a magnificent church in the heart of Yangon.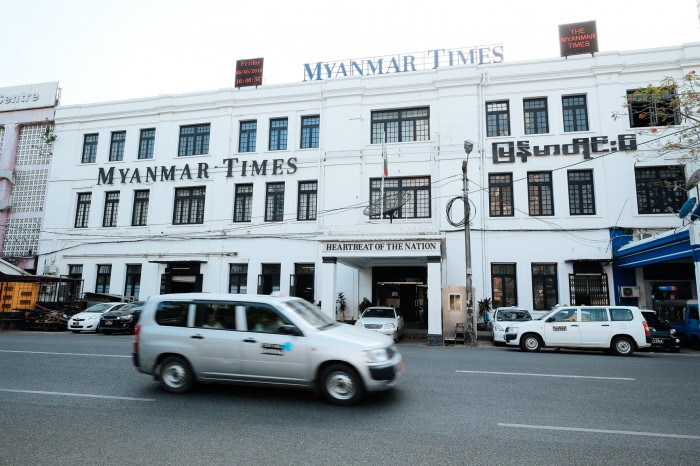 The headquarters of the Myanmar Times, the local newspaper, opposite the church.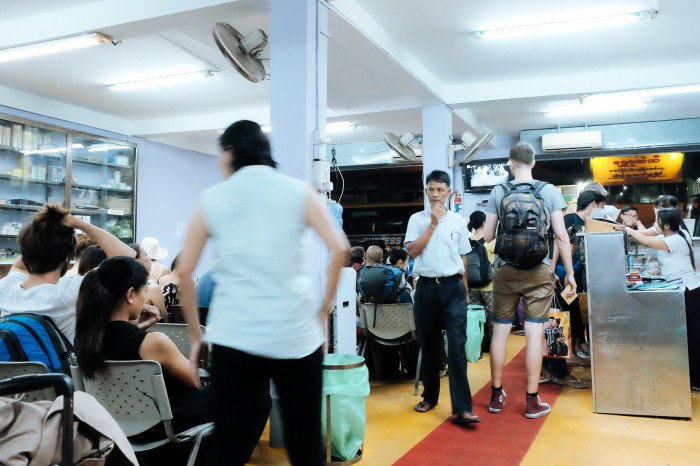 When the sun began to set, we took our luggage and flagged a cab to the Aung Mingalar Highway Bus Station near the airport (so it's another 8000K back). Our bus was scheduled to depart at 8pm and we had to be there by 7.30pm to collect the tickets. As mentioned before, Yangon's traffic jam is extremely bad and a short distance journey could be delayed by up to an hour. Do make time budgets for traffic conditions.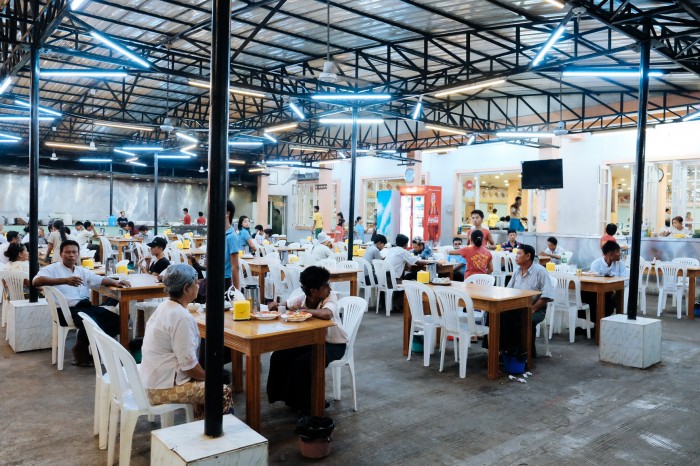 As the overnight bus departed for Bagan, we had our first night's rest in the comfort of an air-conditioned VIP sleeper bus. We were served light snacks (two buns) and a bottle of mineral water. Along the 500km, eight-hour journey, we made three rest stops for toilet/meal breaks.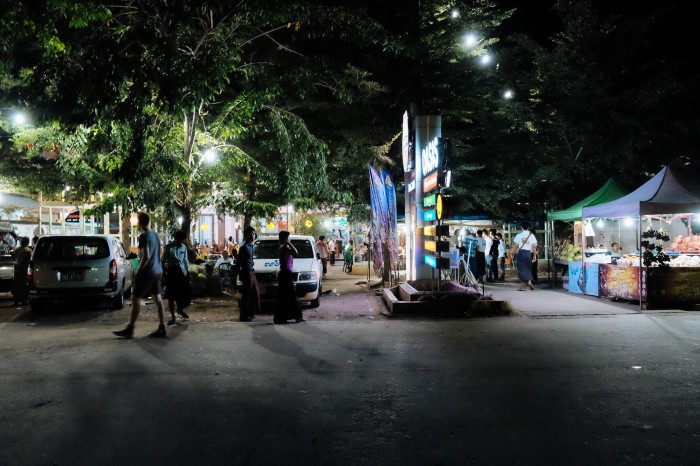 You can also find some food if you're a supper person or if you're feeling hungry at night.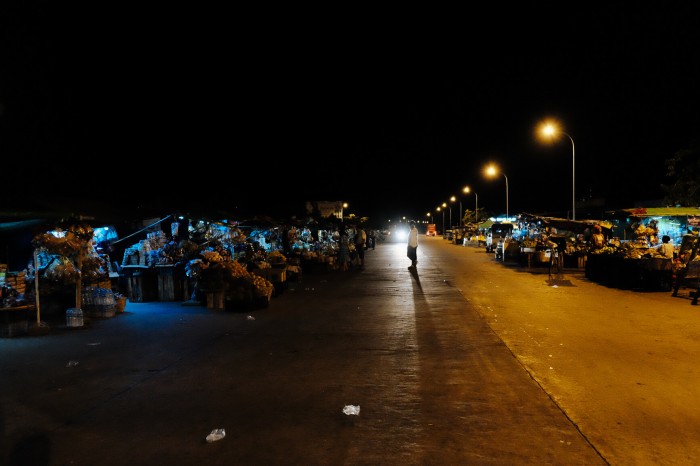 Our second rest stop, at about 2am in the morning.
Day Two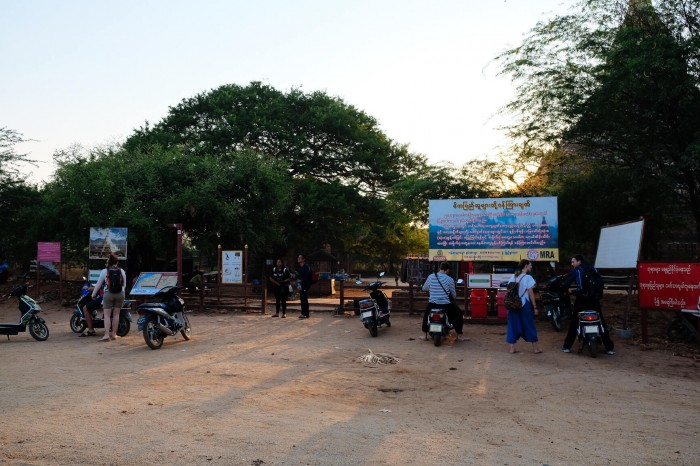 When we finally arrived at Bagan bus terminal at 5am in the early morning, we negotiated a taxi ride to our hotel to drop off our luggage and to catch the sunrise. On arrival, there will be many taxi drivers vying for your business – so know how much to pay for the taxi ride, which is estimated to be around 6000K at most. A rough fare guide to use is a cab rental for the whole day costs 35,000K.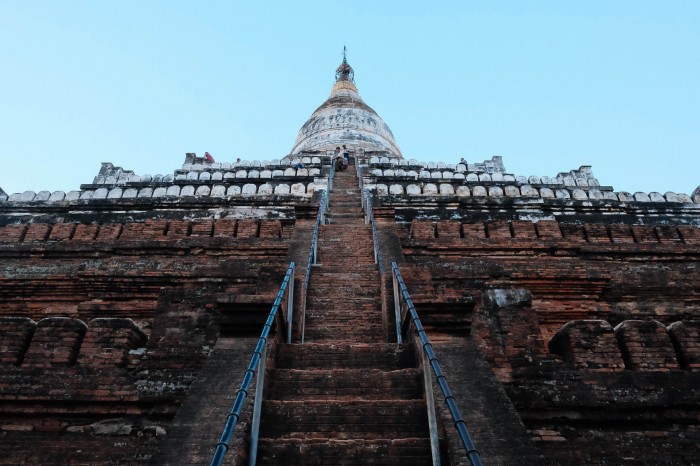 Entrance fee to Bagan is 25,000K payable on arrival, where you'll be issued a ticket for admission to pagodas. This is Shwesandaw pagoda, one of the most popular sunrise/sunset temples in Bagan.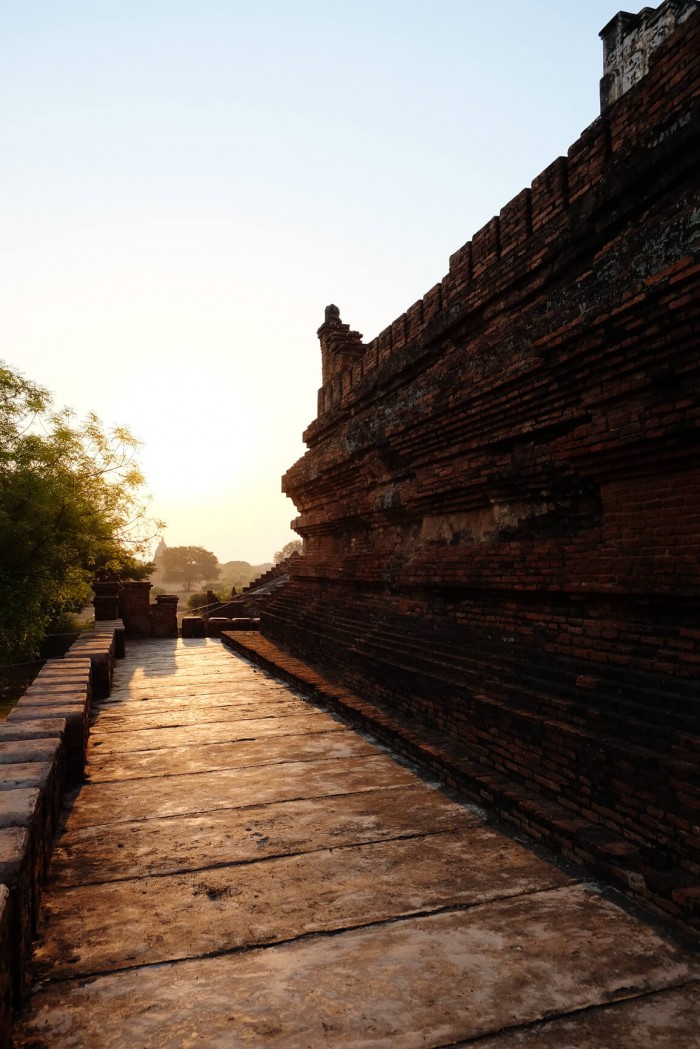 Catching the sunrise in the early morning with barely any sleep.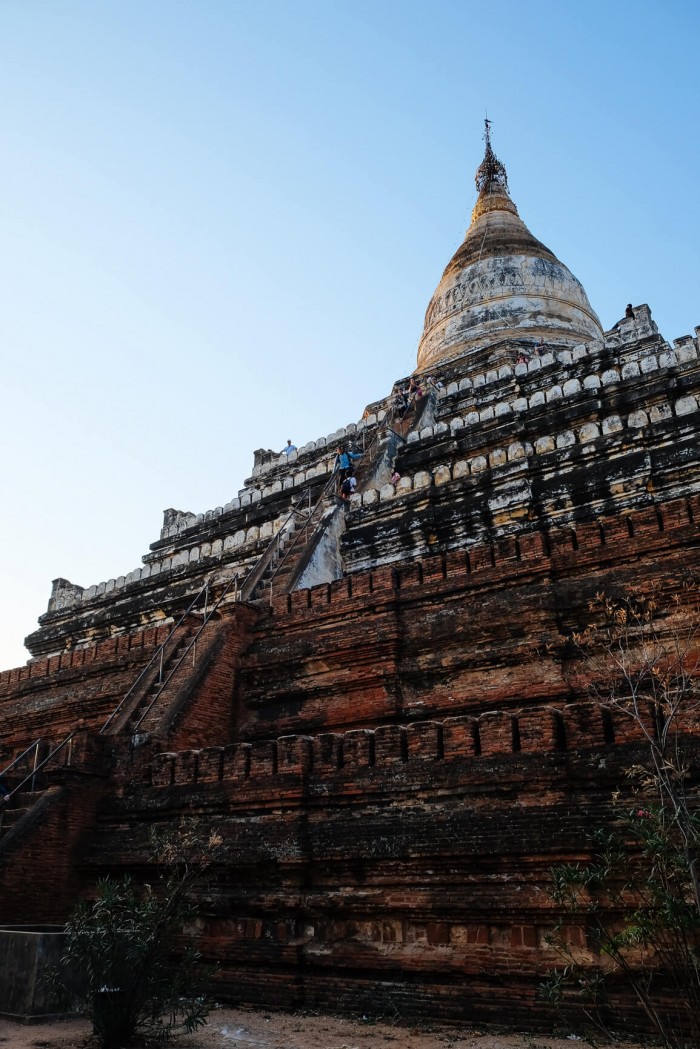 Do note that the flight up is very steep and requires some effort, so those with weak knees might want to avoid climbing.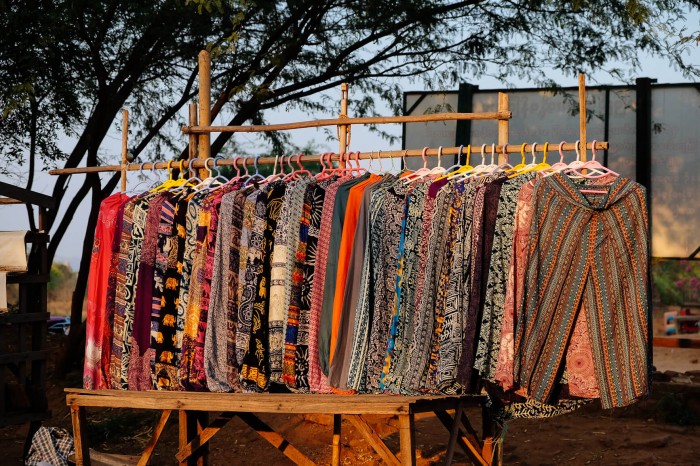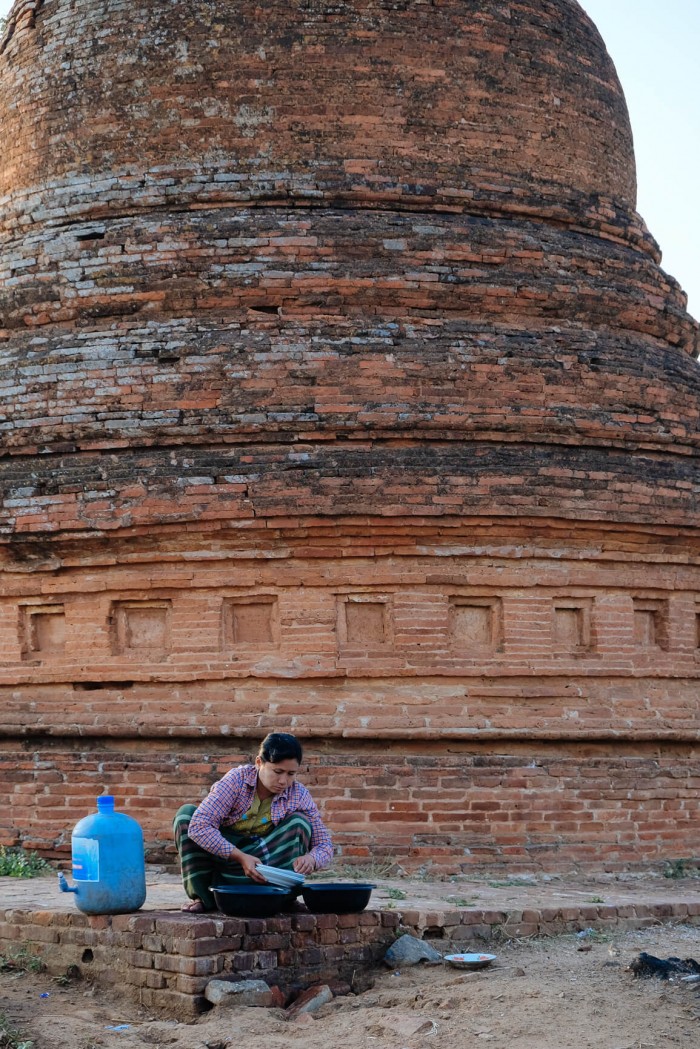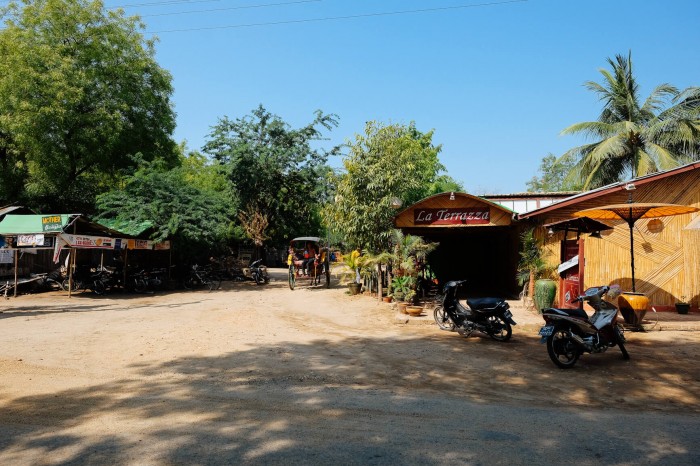 After catching the sunrise, we headed back to our hotel (Zfreeti Hotel – located at Nyaung Oo, the area for budget hotels and restaurants). You can also choose to book luxury hotels located at Old Bagan, which is nearer to the pagodas, but there might be less variety for food. This is a street located outside our hotel, and you can see some restaurants here.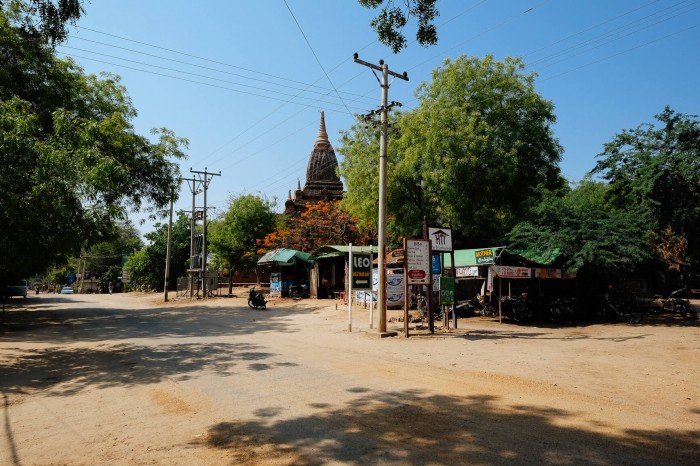 Bagan is huge, and it's divided mainly into three parts – perhaps more – but for ease of understanding, they are: Old Bagan, New Bagan and Nyaung Oo. The entire area measures about 20km by 20km and it's extremely sparse – i.e. you can literally be in your own world here. Notice that the roads are empty and shophouses are numerous but mostly far apart from one another. We rented an electronic scooter for transportation around (6000K for a full day) which seats two people. It's like a motorbike, but runs on electricity (so no petrol!) and runs up to 40km/h. You can rent these either at your hotel or shophouses around the area. Other modes of transportation include a horse cart (20,000K per day) or a taxi/car (at 35,000K per day). I recommend the scooter for a unique experience – don't worry it's very safe and the roads are wide.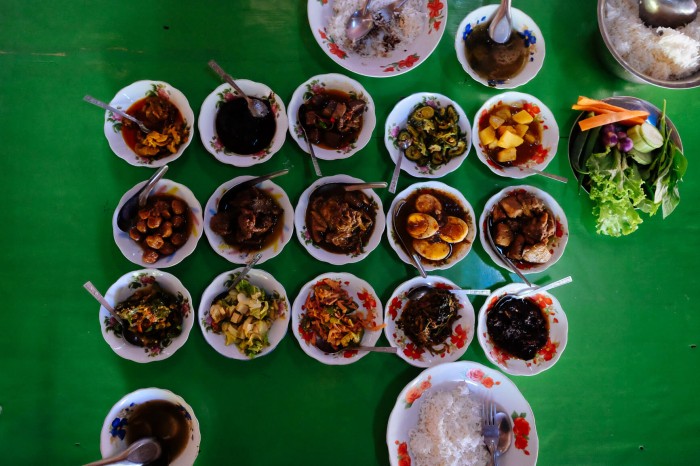 Our first meal in Bagan. We tried Burmese staple food – rice with tons of side dishes (vegetables, meat, curry). At 4000K per person for a buffet, this might seem like a steal, but the taste might not be everybody's cup of tea.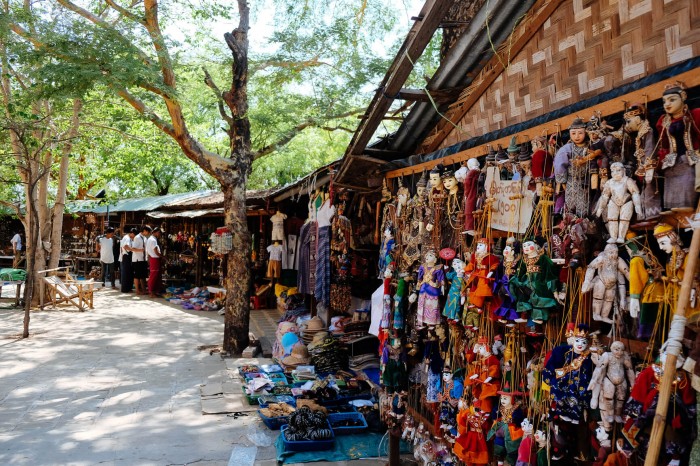 After lunch, we explored more pagodas around Bagan. Bagan has more than 2000 pagodas in number, and you probably wouldn't visit more than 20.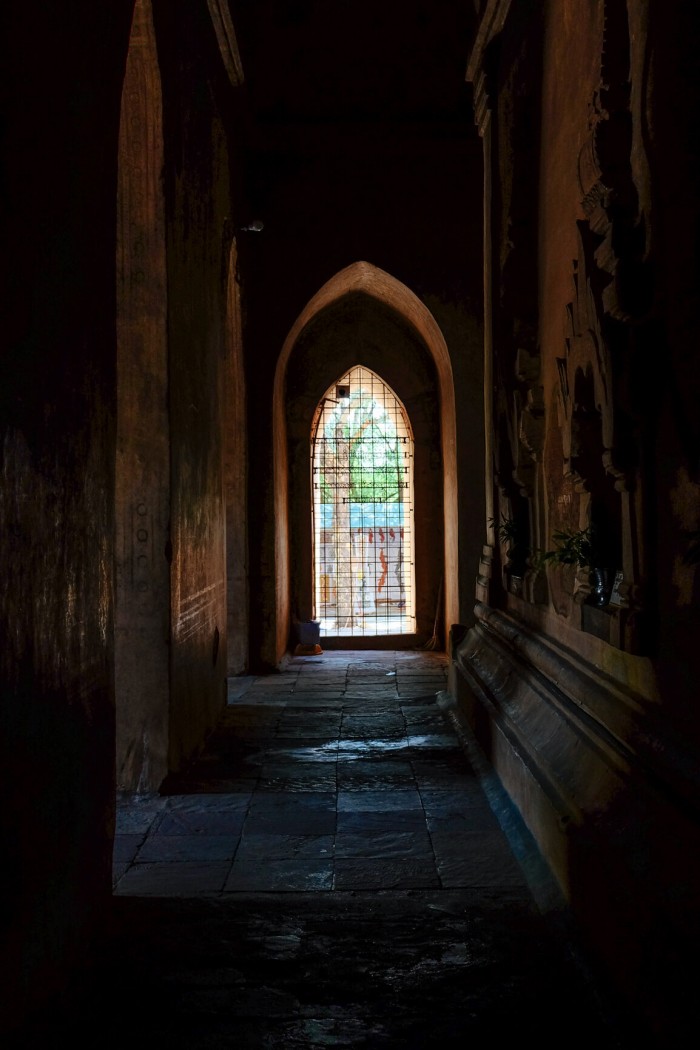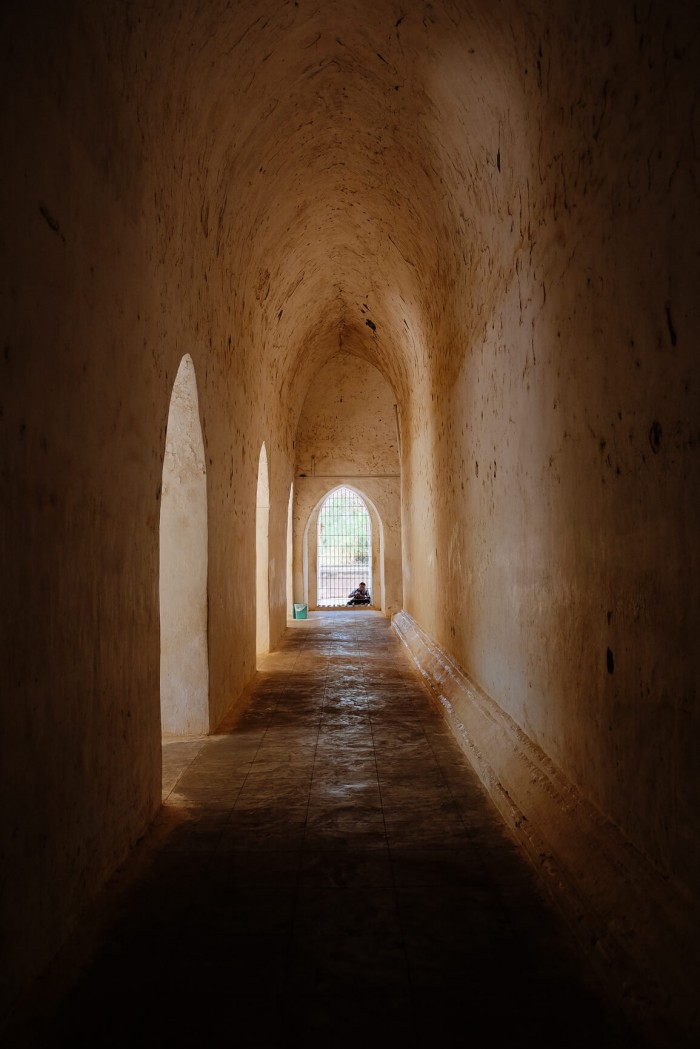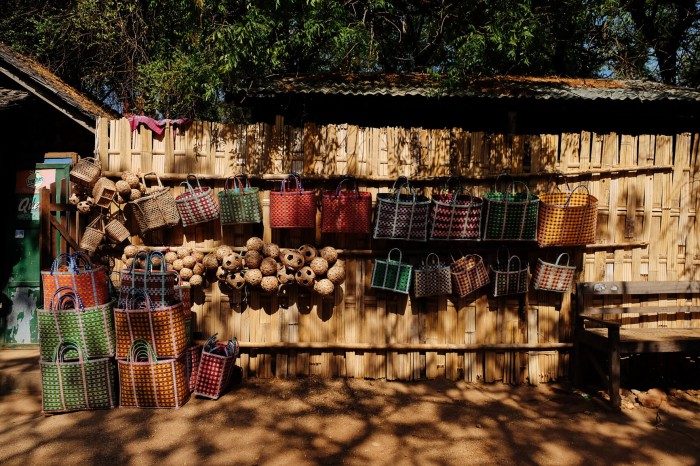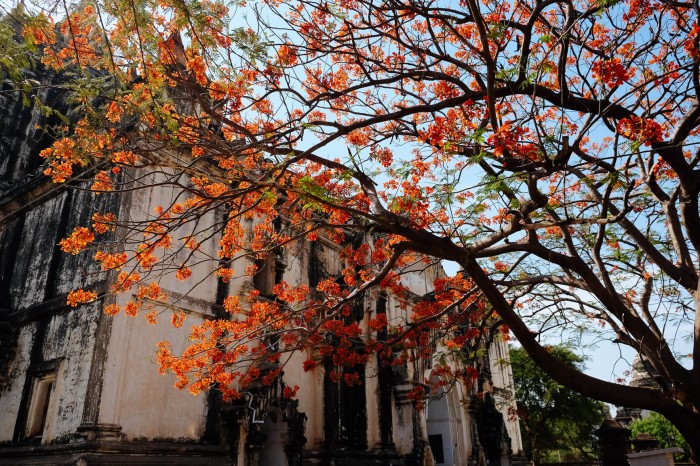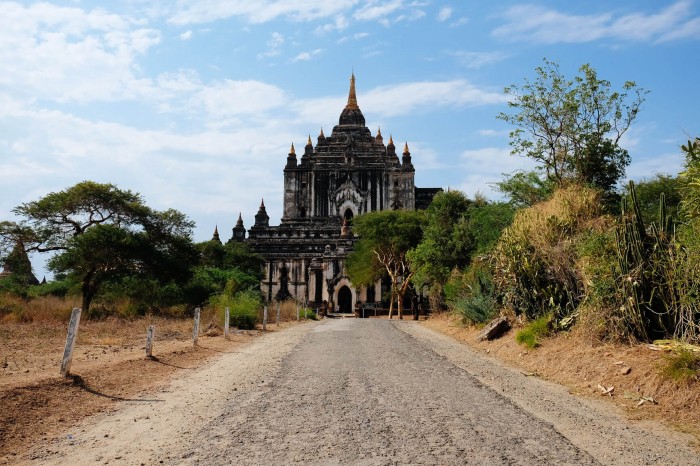 Do visit some of the more popular temples on the first day (if you're spending two days here), then the smaller ones on your second, when you have gotten a good feel of what to expect here. If you use Google Maps, you can see the names of the temples on the map, and they are usually the bigger ones.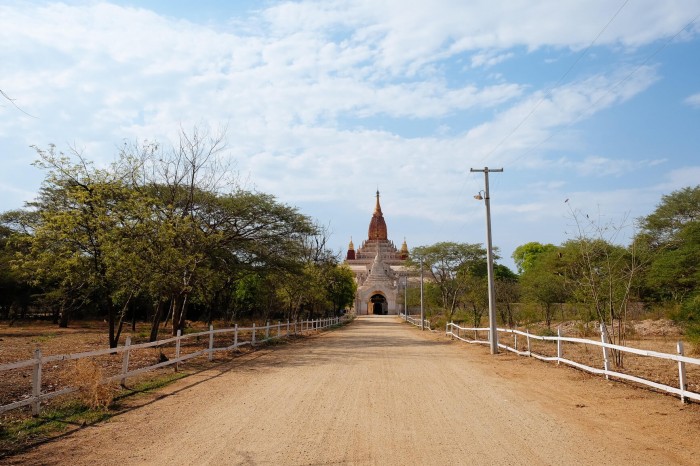 A view of Ananda Pagoda from afar, my favourite and in my opinion, the most beautiful temple in Bagan.
Pagoda grounds within Ananda Pagoda. Before I forget to mention, while you need to walk around barefooted, the heat on the concrete ground can be unbearable at times.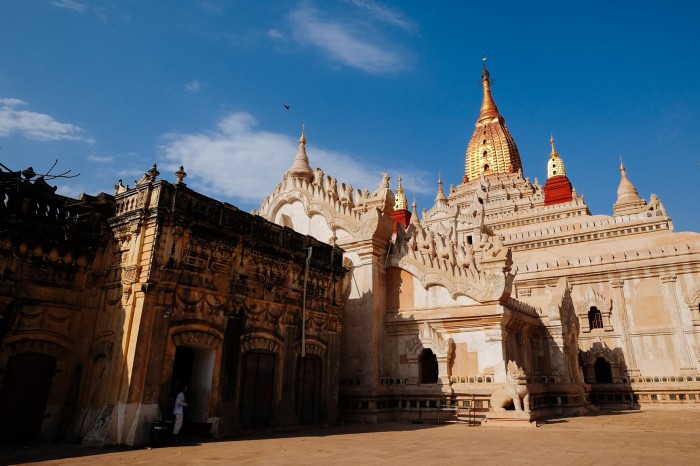 It's a beautiful pagoda especially under the evening sun. Visit this place in the evening! You won't regret one bit.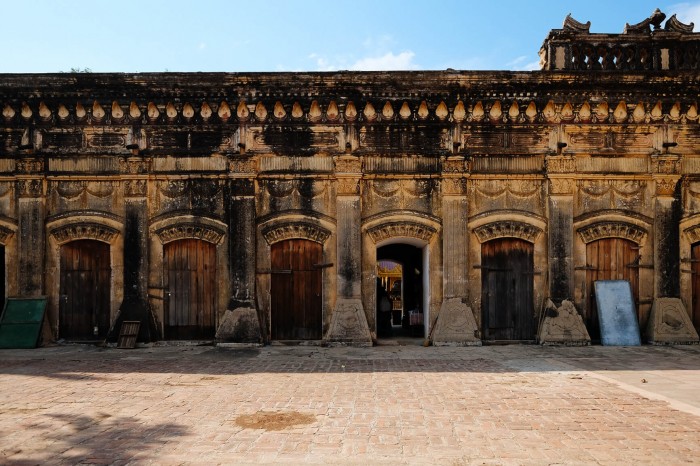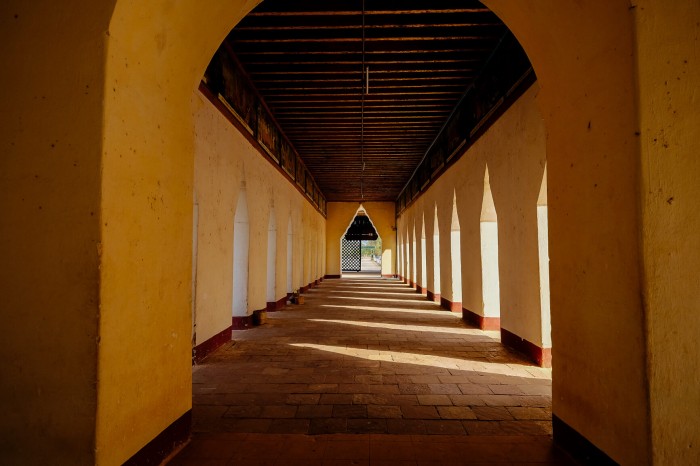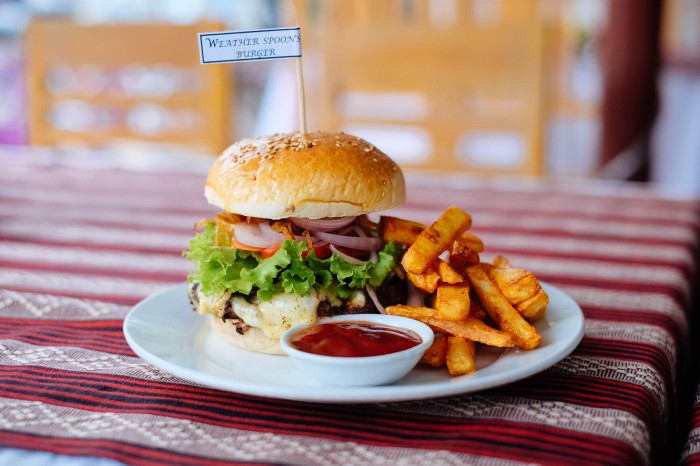 With the number of restaurants countable by hand, we had lunch at Weather Spoon – one of my favourite places to dine in Bagan. It's well rated for its burgers and fries, and we also tried their Pad Thai (which was a little oily). Very affordable and amazing quality food, but be prepared to wait for the food.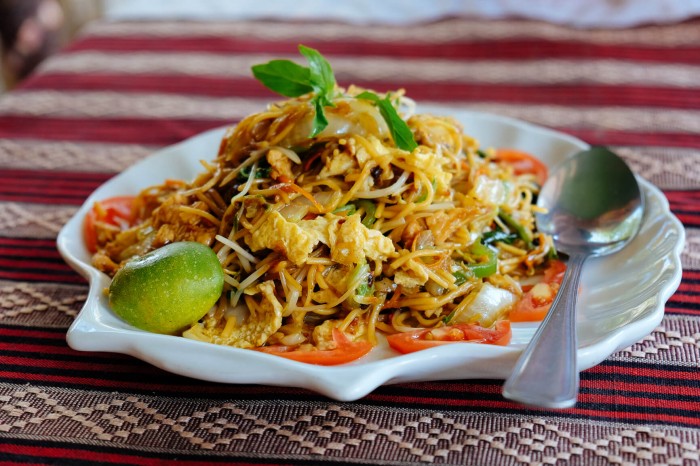 I believe the burger costs 4900K while the Pad Thai costs 2500K. Alcoholic drinks are also pretty affordable, below 2500K per glass.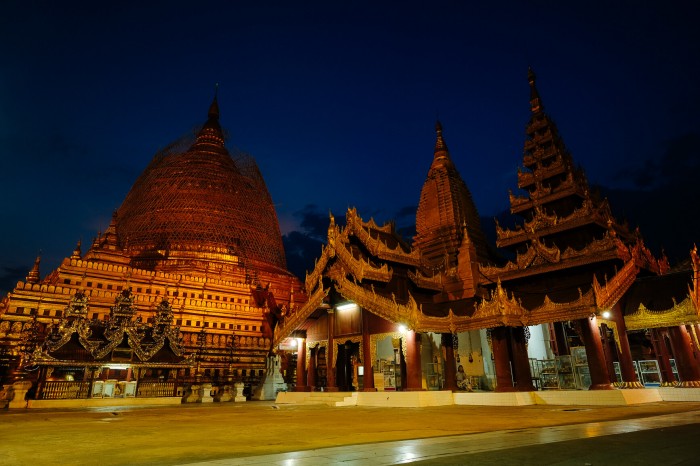 Our last destination of the day – Shwezigon Pagoda located at the northern end of Bagan.
Day Three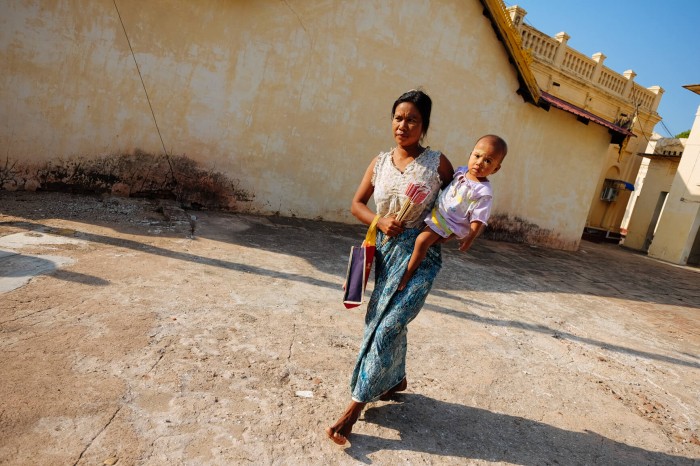 We started our third day in visiting Shwezigon pagoda again, before visiting the other pagodas in the vicinity. Because of the sweltering heat, we did not spend a lot of time pagoda-hopping. We were recommended to go around Bagan in a loop, starting from Nyaung Oo to Old Bagan, then to New Bagan before heading back. A ride from Nyaung Oo to Old Bagan is about 4km or 20 minutes.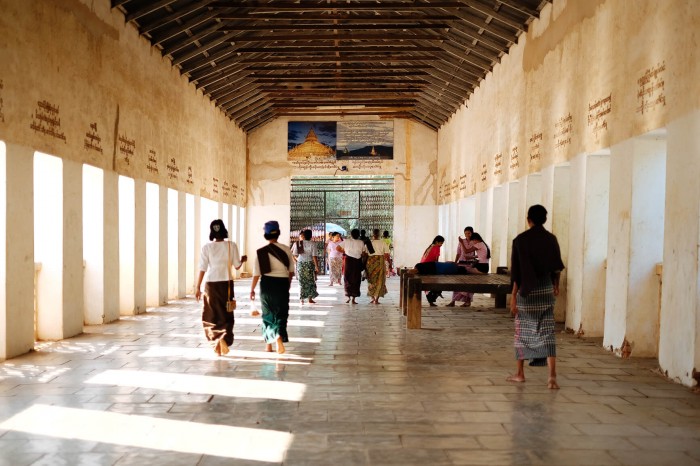 The best time to visit the pagodas is early morning and late afternoon, when the sun isn't being a b*tch. Do plan your time wisely, visit key destinations at appropriate times and drink plenty of water. There are water refills around the various pagodas as well.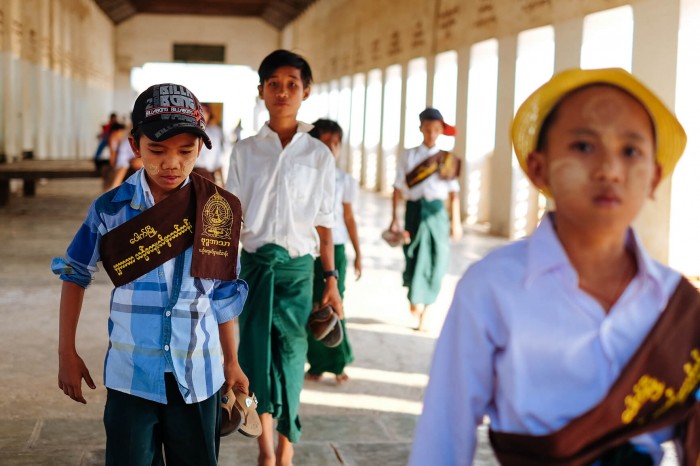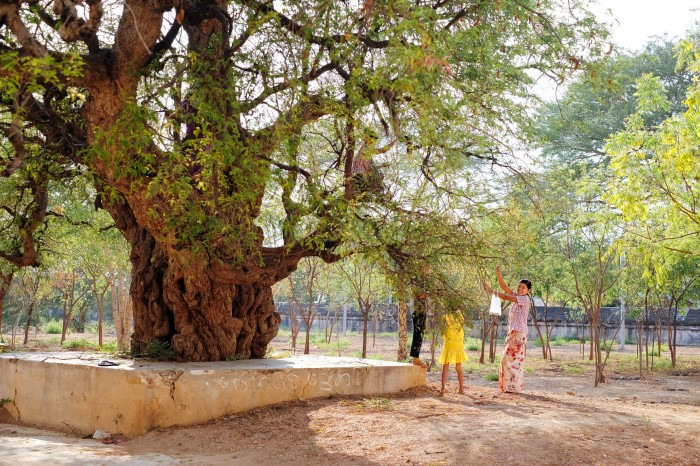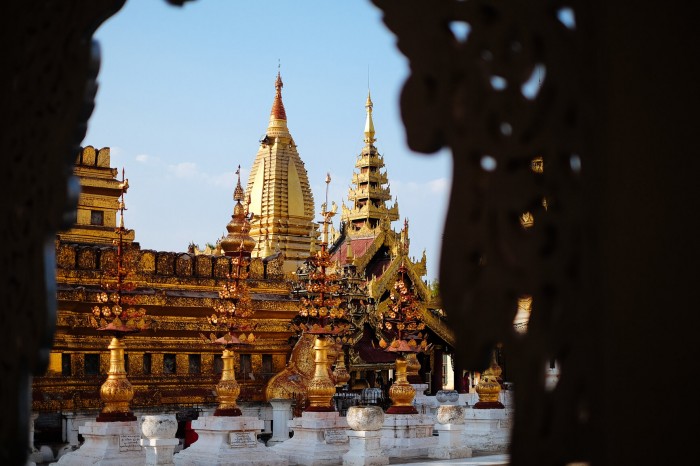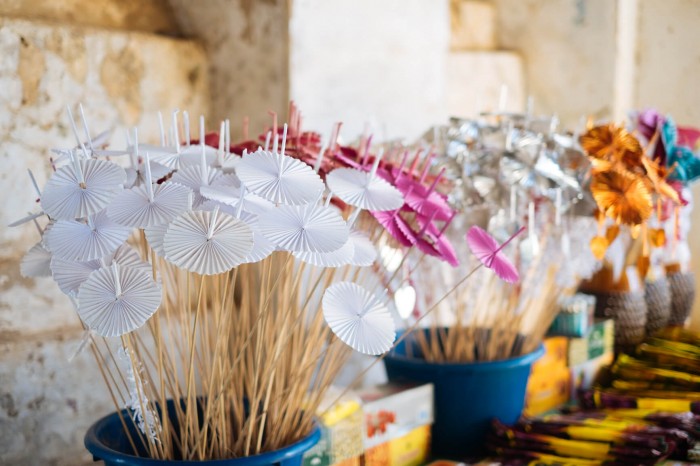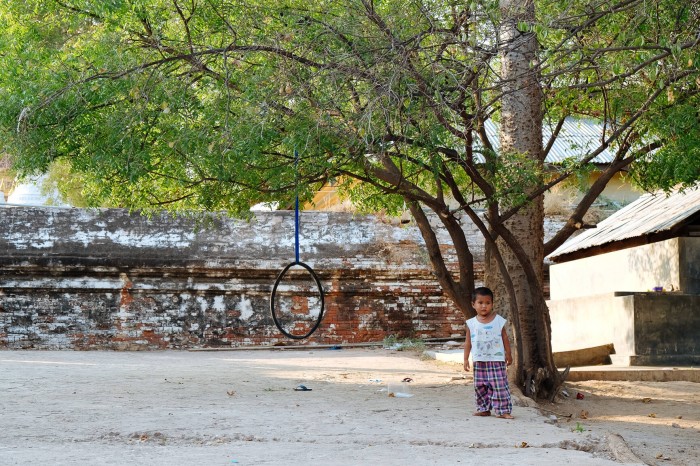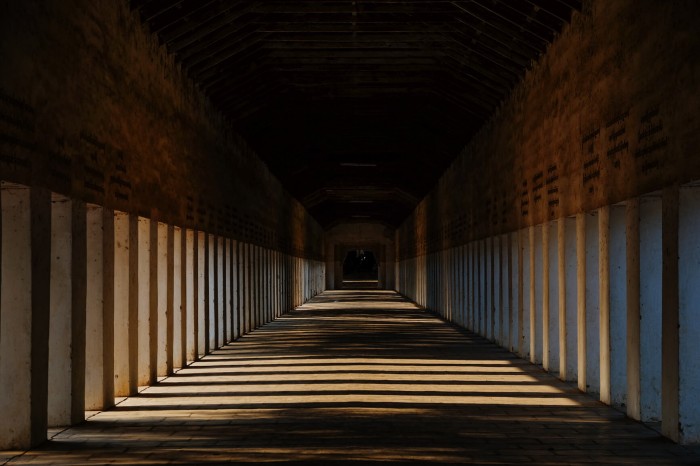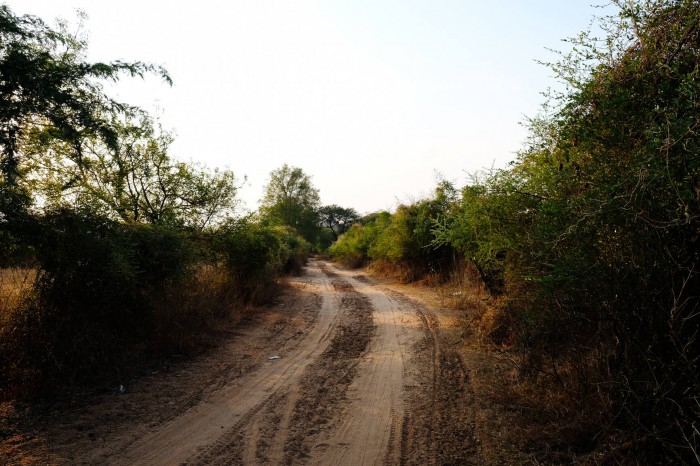 Bagan is a giant playground with plenty to explore. You can visit off-road tracks, go behind pagodas, visit the river and many more. If you're feeling adventurous, you can visit the lower half of Bagan where it's less explored and crowded. As I was travelling with my mum, I did not take a lot of risky endeavours.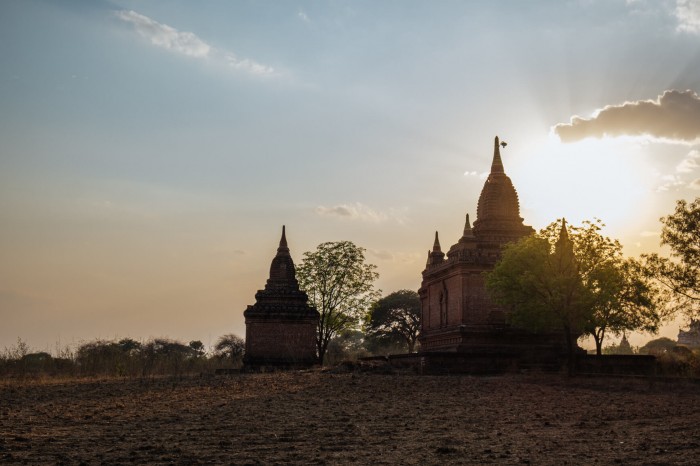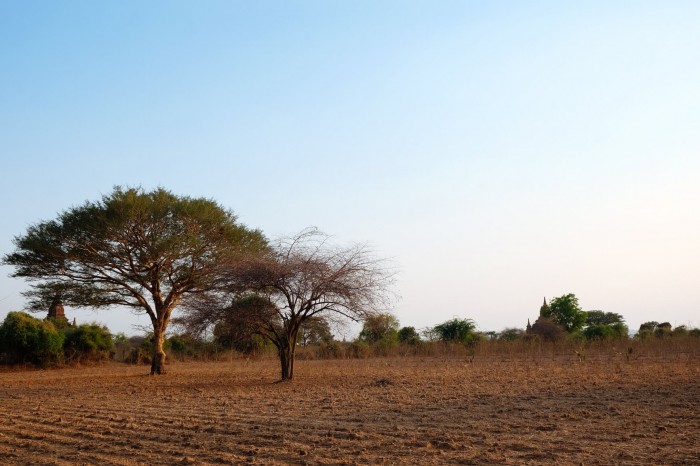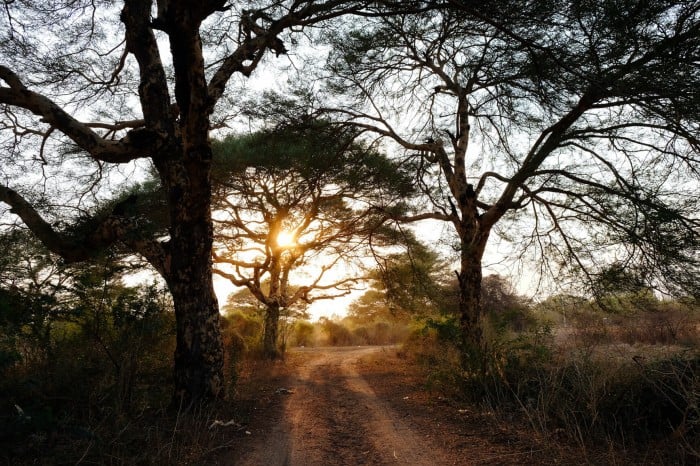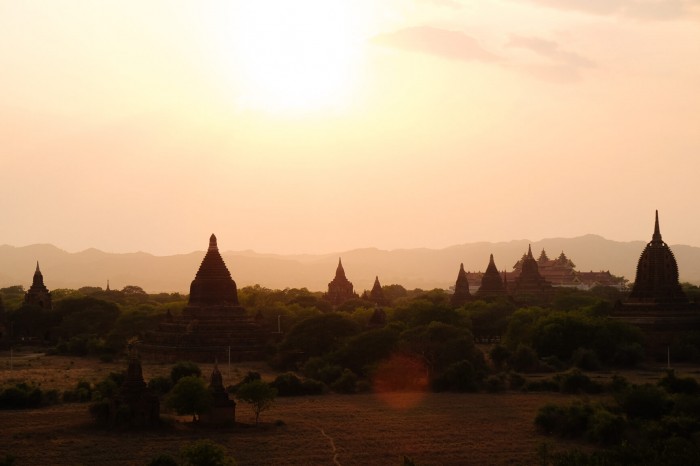 Over the two days at Bagan, it was mainly lots of pagoda-hopping, walking on blistering hot grounds and sweating buckets. However, there were many magical moments such as this that makes the journey worthwhile. I recommend a maximum of two days in Bagan to make full use of the 25,000K entrance fee, anything beyond that it's probably the fact that you really love pagodas.
Day Four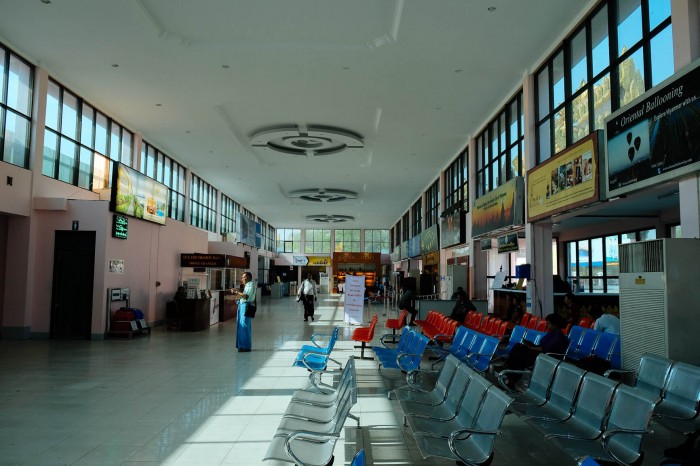 An early morning ride to the local Bagan domestic airport (6,000K from hotel). We checked in at the Air KBZ counter and showed our e-ticket on my iPad. The airport staff issued us our boarding passes and we were told it was free seating!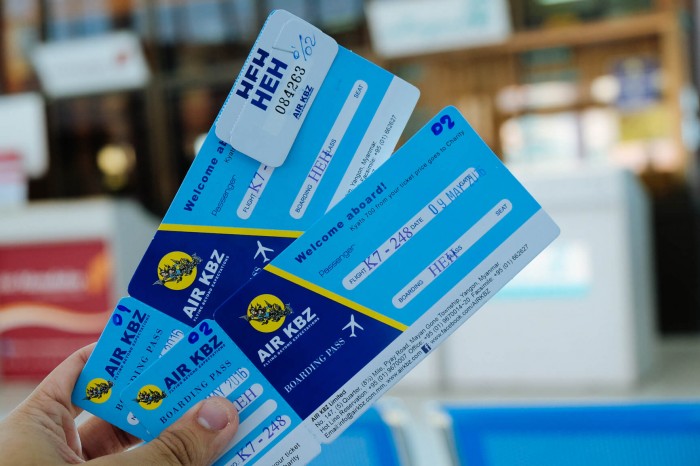 Boarding passes with no seating arrangements. I was surprised when I heard it's free seating. When flying on domestic airlines, you have to regularly check that your flight is on schedule – especially one day before! Myanmar airlines are known to reschedule flights regularly so if you don't want to miss your (only) flight, do enough due diligence.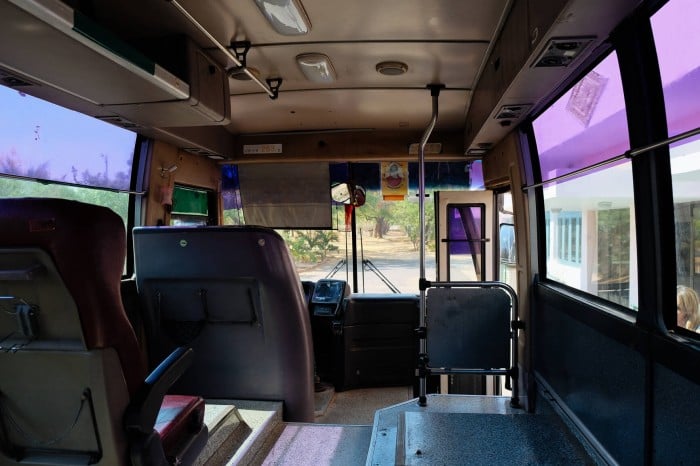 Immigration was fuss-free and airport processing can be done within an hour. We took this one-minute bus ride to our plane which was rather unnecessary (they just did a u-turn and we reached the plane).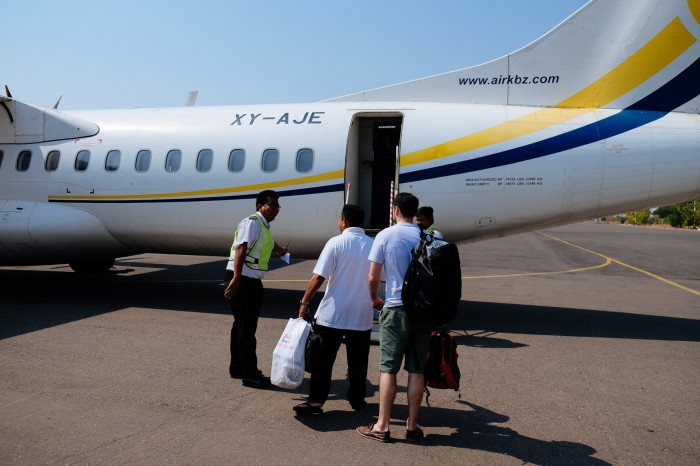 Boarding the plane with just eight other passengers to Heho (with five transiting to another airport – leaving only three of us!) The flight experience was better than expected. The light plane meant that the effects of turbulence can be easily felt but taking off and landing by the pilot was commendable. I'd say it's fairly safe to fly on domestic airlines, despite Myanmar's poor safety record.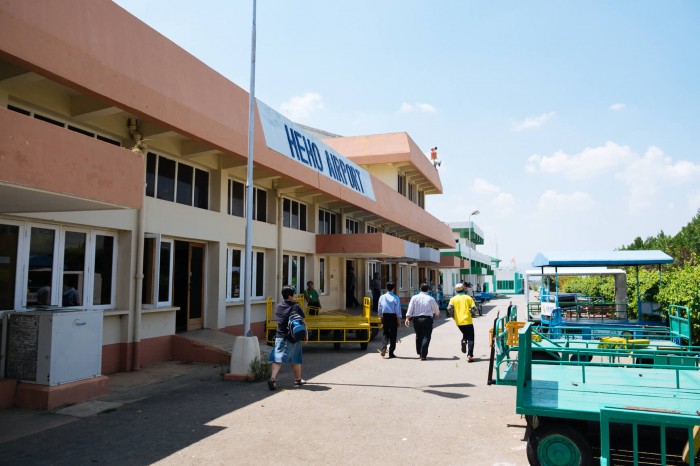 Arriving at Heho airport after just 30 minutes of flight time.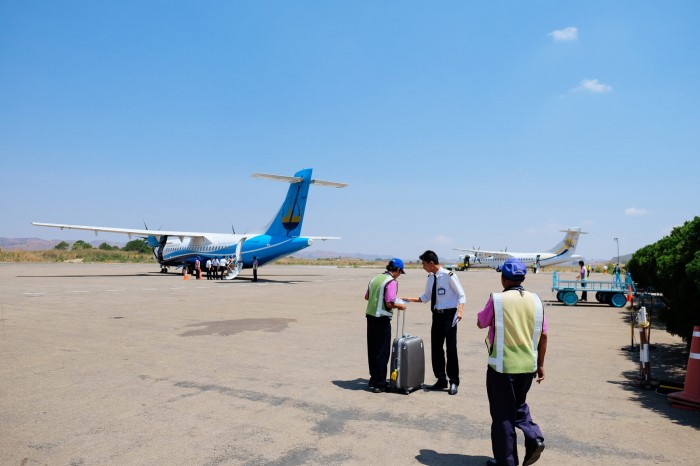 Airport grounds – nothing fanciful here, but walking down the stairs of the plane and getting your luggage fetched from the plane directly is a new experience to be in.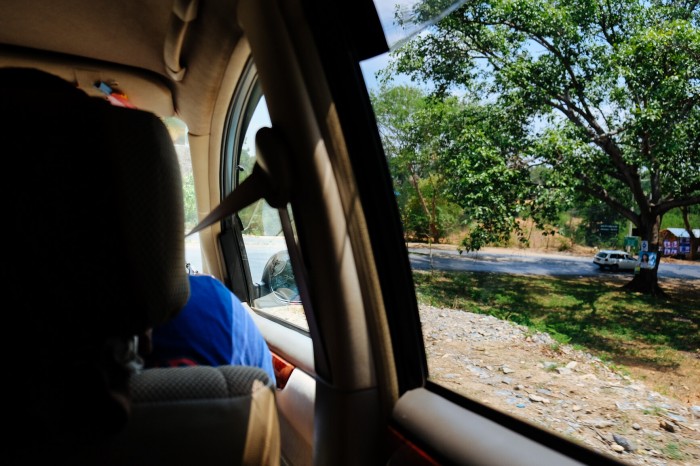 Outside the airport grounds, we easily got a cab (25,000K) and headed towards Nyaungshwe, some one-hour ride away from the airport.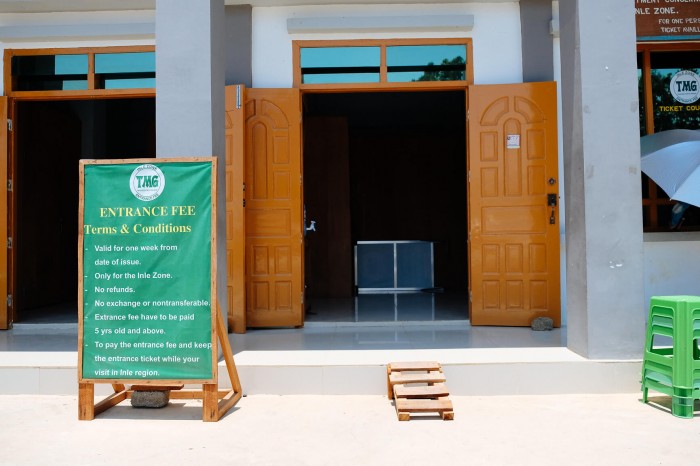 There is also an entrance fee of 12,500K per person, half the price of Bagan to be paid on arrival.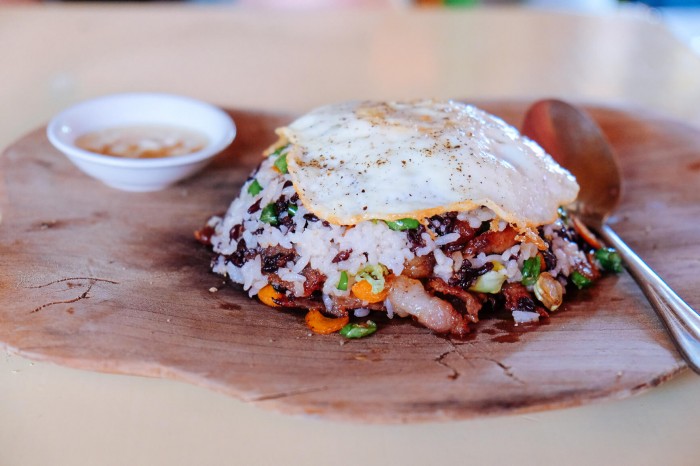 Our first meal on arrival at The French Connection – fried rice with bacon and egg. Amazing stuff.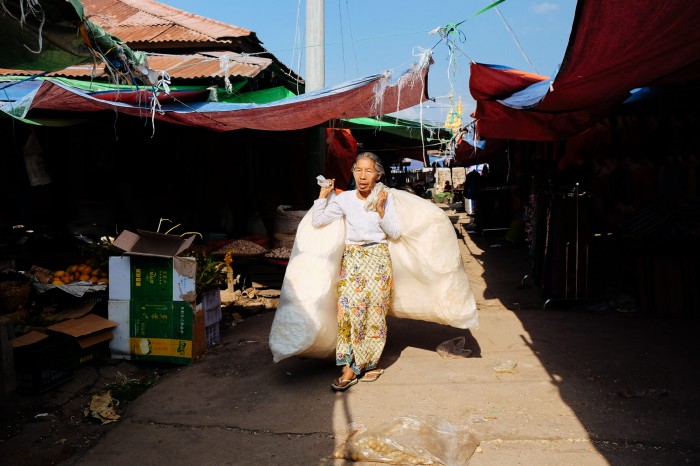 A visit to the local market in the late afternoon.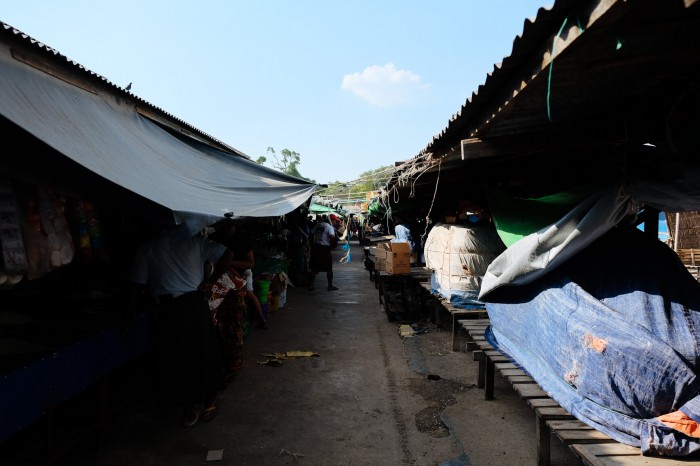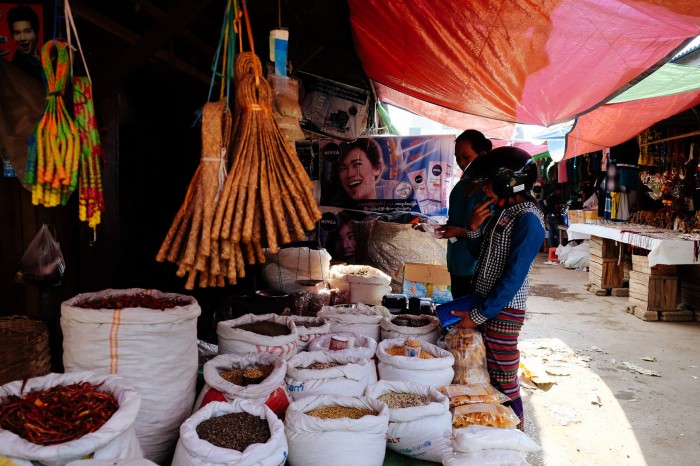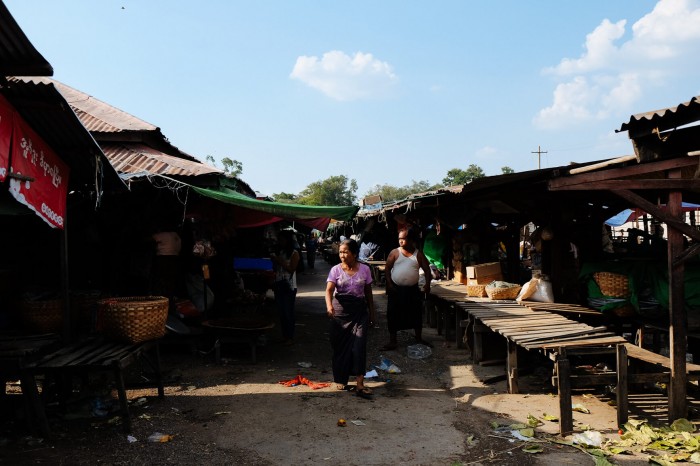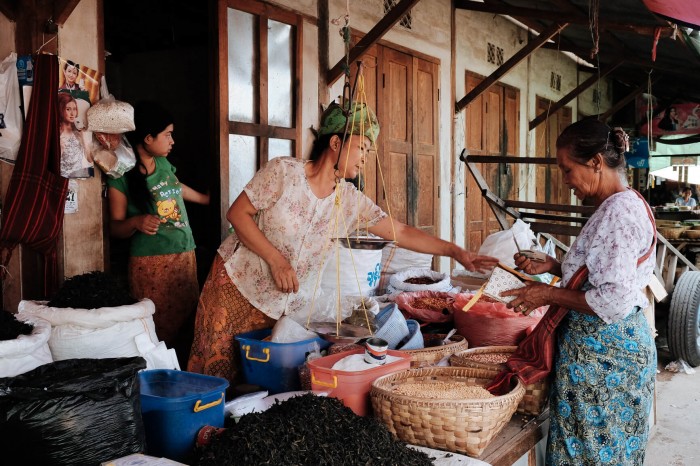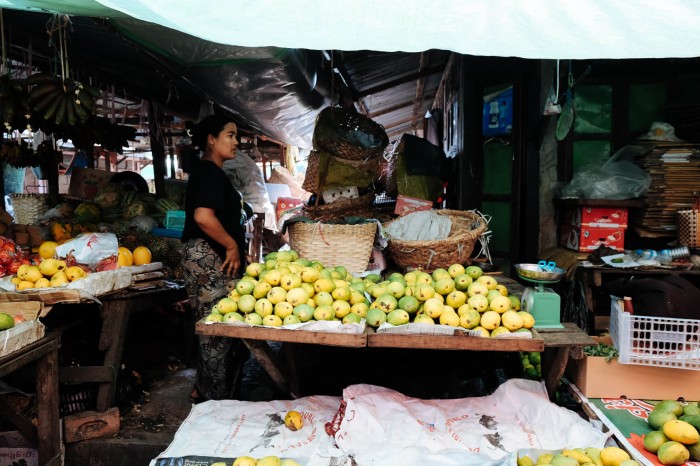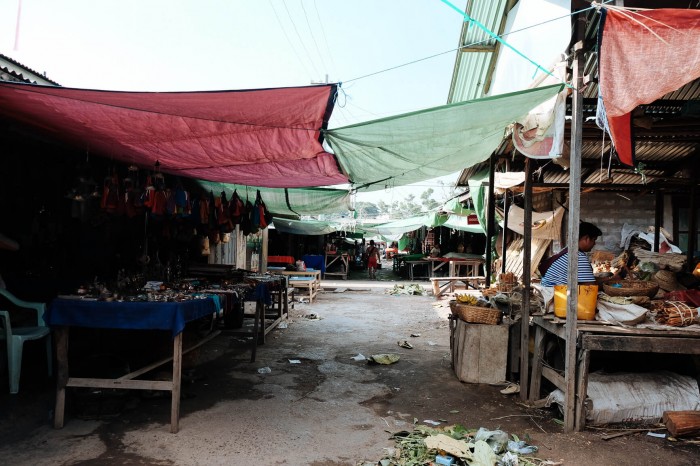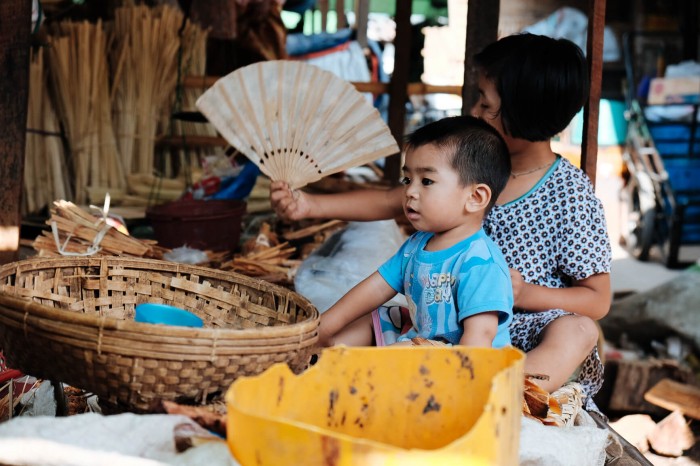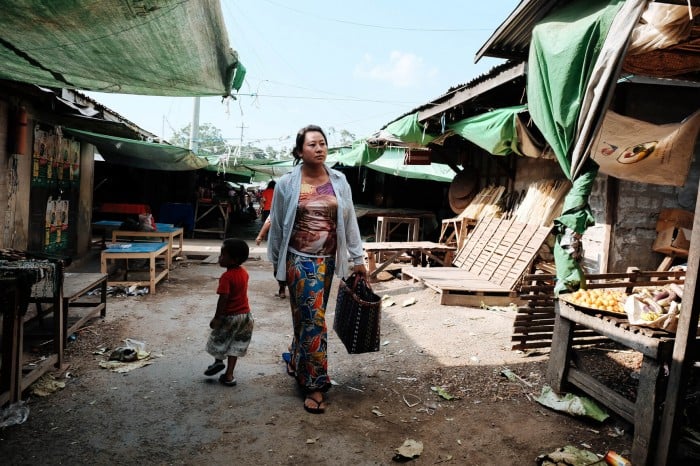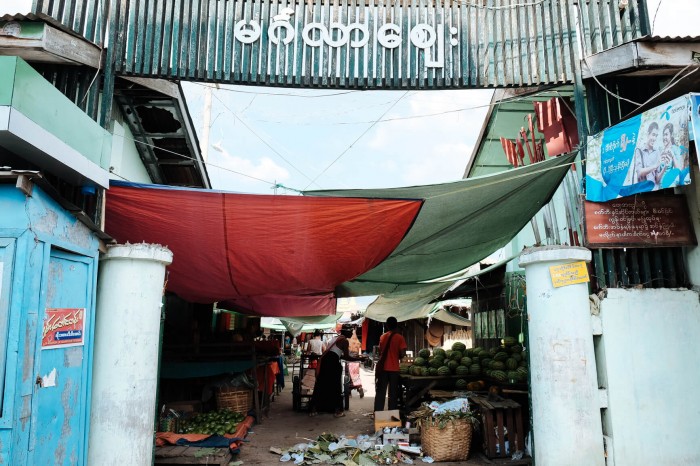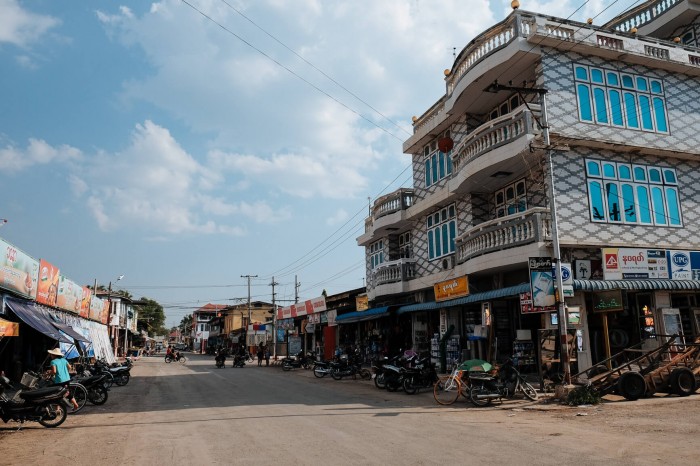 Local town of Nyuang Shwe. It's a fairly small town with a lot of businesses clustered into a square area, so it's very easy to travel around by bike (between 1500K to 2500K, ours was free) or on foot.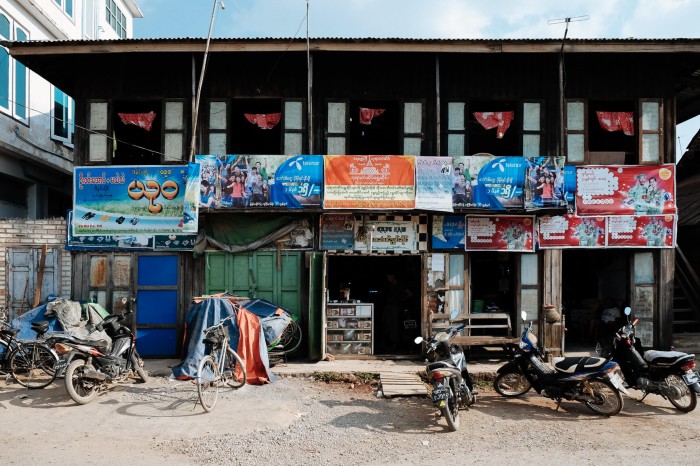 Towards the evening, we took our bikes and rode about 4-5km east of town towards a winnery. It's an open road with no street lighting, so we ensured that we would be done before the sun sets. It's a fairly direct route with a scenic view. The winnery is a great place to chill and observe the setting sun. It overlooks the vast land and provides an amazing vantage point for sunset. We chose to head back to our hotel before it got dark as we didn't bring our torches along. Unless you have private transportation back, it's not the best idea to stay till dark. Thankfully, we managed to catch the setting sun on the way back as well.
When we were back in town, we went looking for our dinner. We bought some street food like meat/potato skewers and samosas which were delicious. Back in town, opposite the major supermarket where we stocked up on bottled water and crackers.
Day Five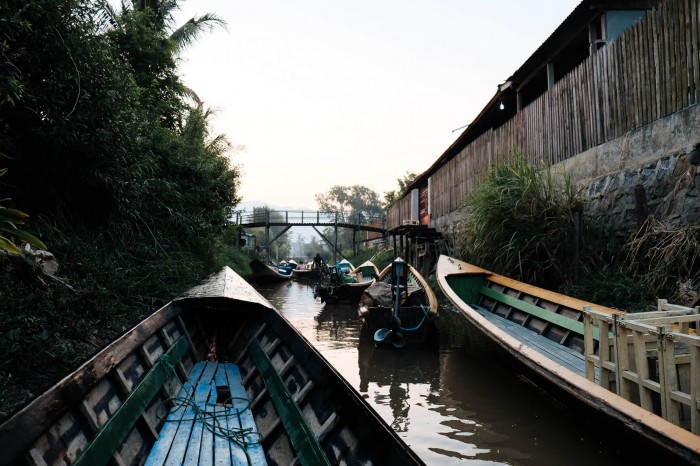 We got up early today to catch the sunrise on Inle Lake – the main destination of this town. There are many tours around Inle Lake, ranging from 20,000K to 65,000K per boat – depending on destination and duration. We took the 20,000K half-day boat tour from our hotel, which included a ride to and back from the lake, booking the night before.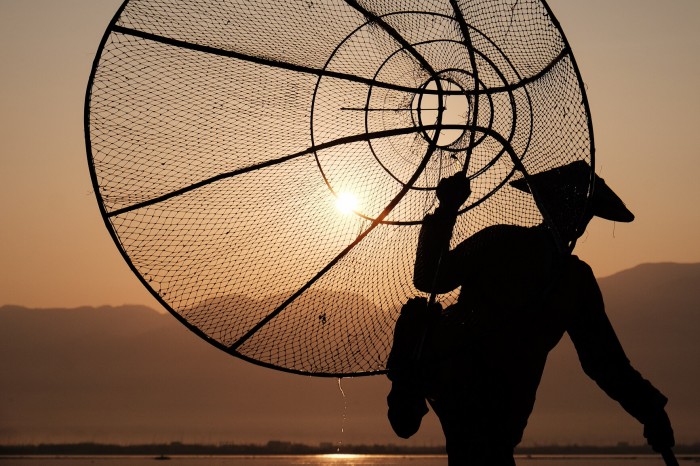 The sunrise (and sunset) on Inle is spectacular. You can catch the fishermen in action in the wee hours of the morning. In the morning, temperatures can be extremely cold – especially when the wind blows against you. Bring a jacket if you need to, and be prepared for the temperature to change quickly once the sun is up.
Inle Lake is the second largest lake in Myanmar, spanning an area of 116 square kilometres. It's a beautiful sight to behold, and it's even better than the Mekong River in Vietnam. You might be brought to visit workshops such as silver workshops, but we skipped them completely.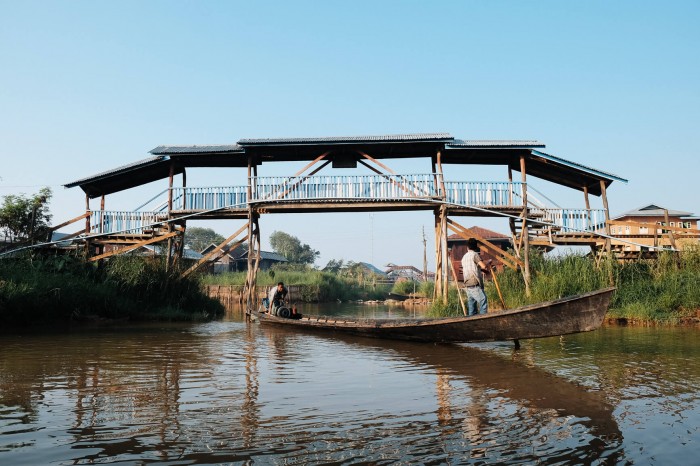 The locals travel around the lake on their small diesel boats to conduct their daily activities.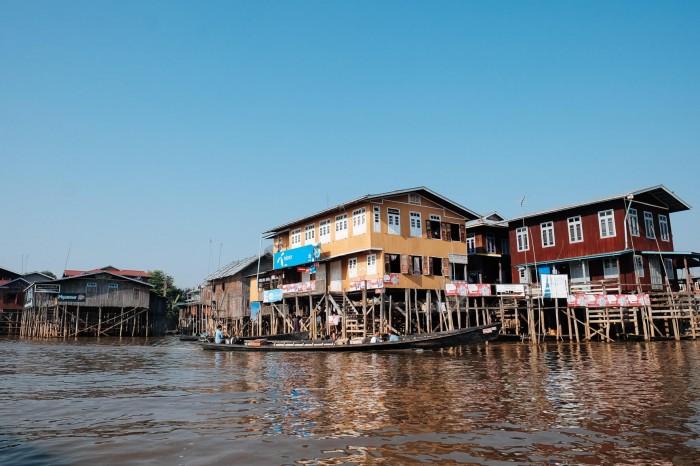 These little houses are plentiful and well-distributed along both sides of the meandering portions of the lake.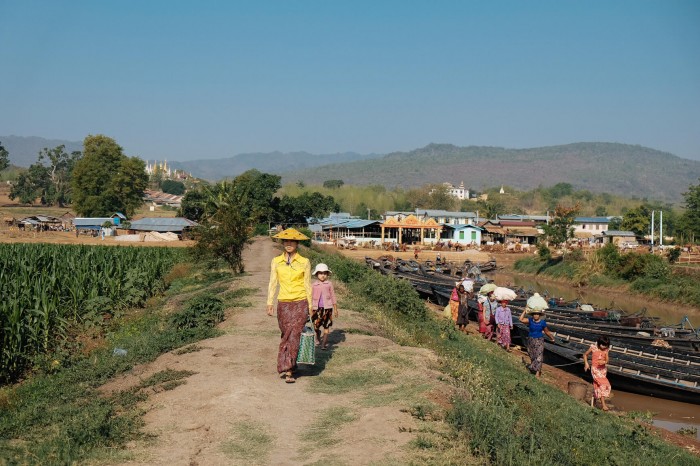 We visited the local market to take a peek of how the locals live their daily lives.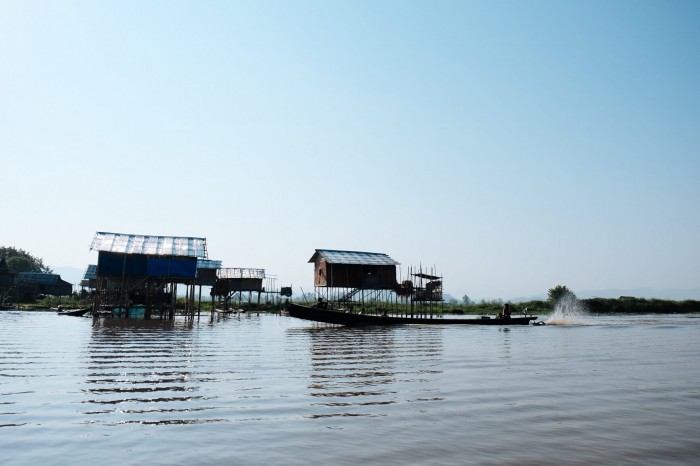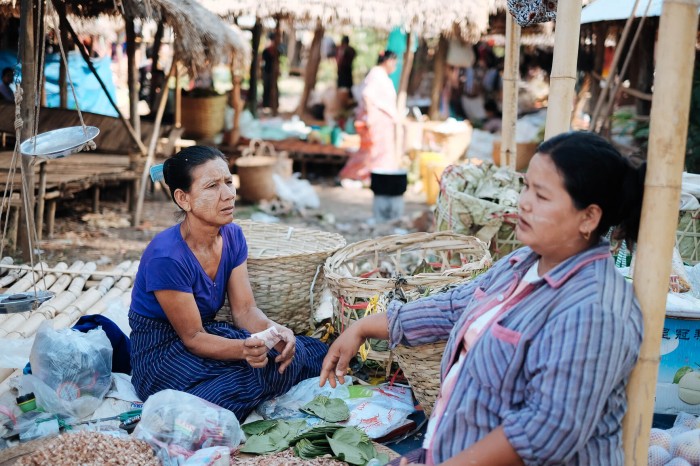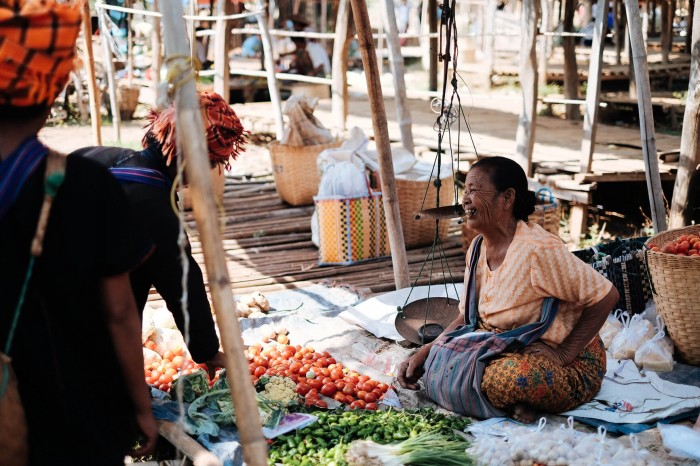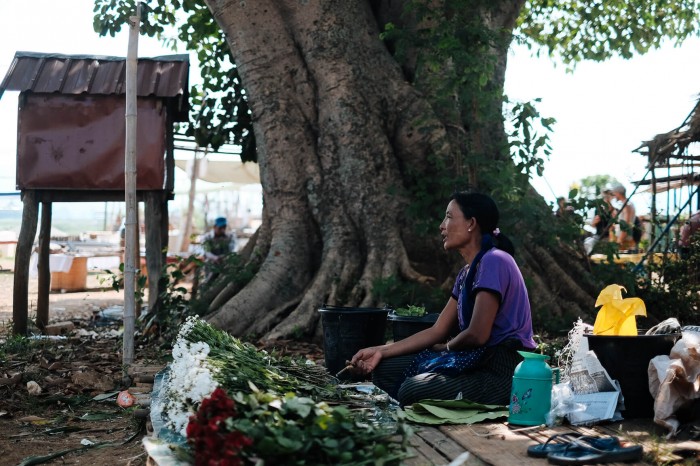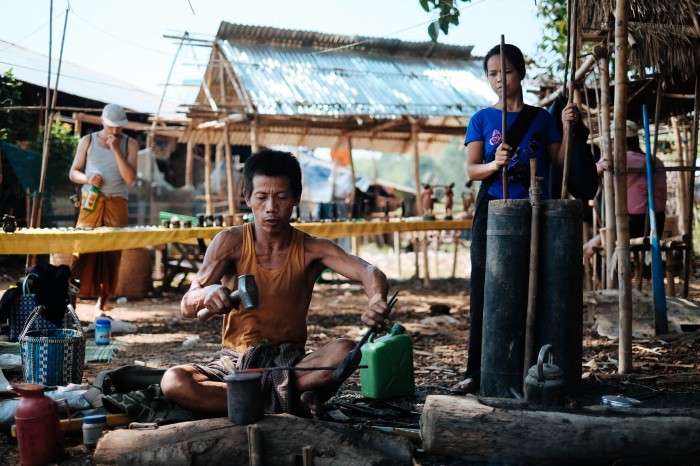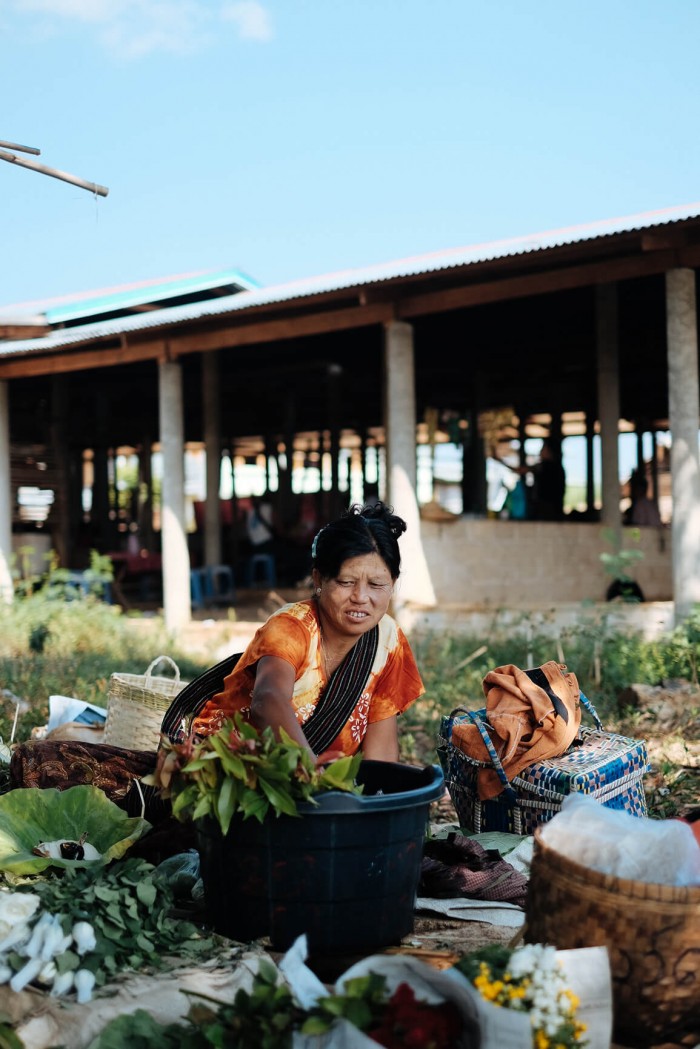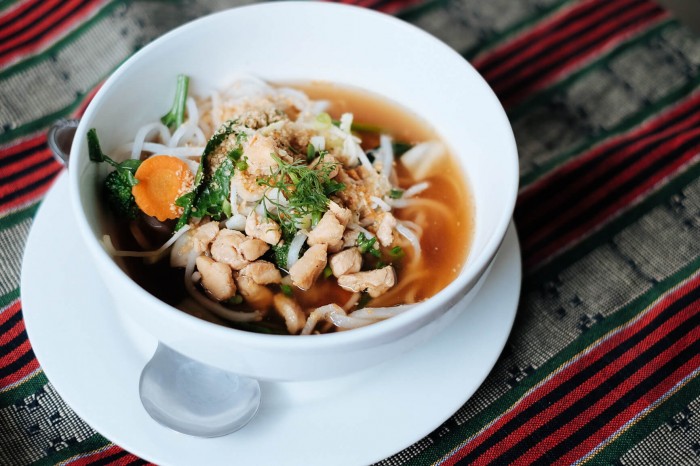 We ended our day with a nice meal at Thanakha Garden, a restaurant in town serving affordable and great tasting food.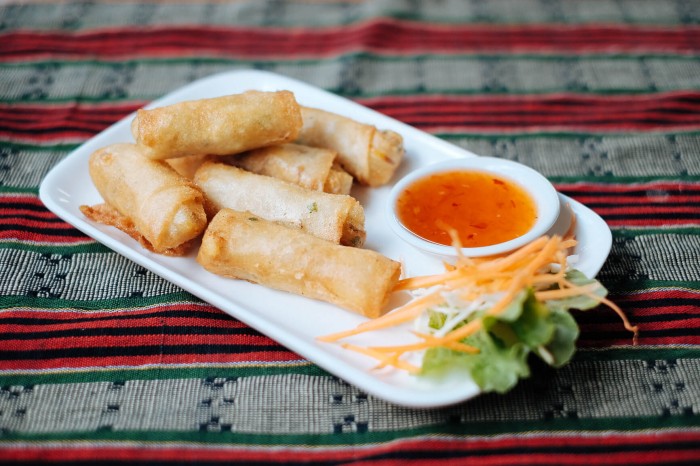 Day Six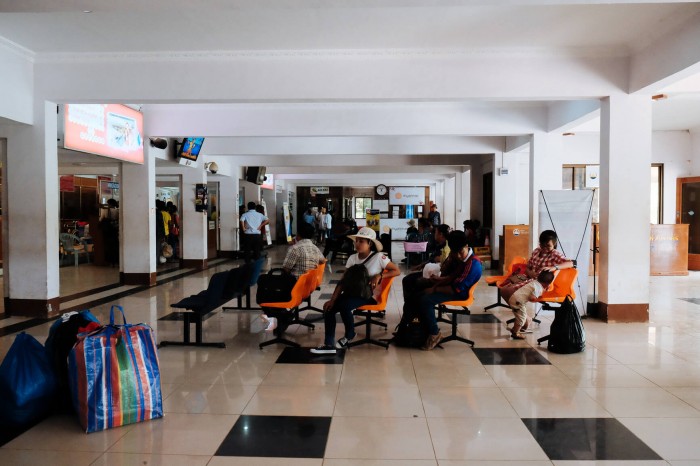 We booked a taxi to Heho airport (15,000K) and departed for Yangon in the late morning.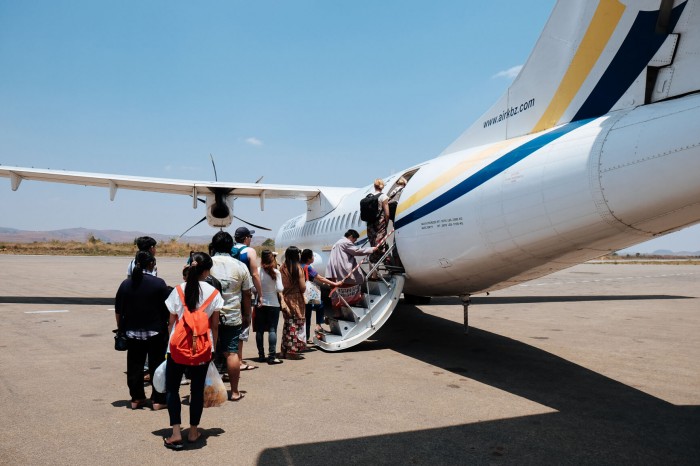 This time, our hour-long flight back to Yangon was generally more packed – and that's really reassuring.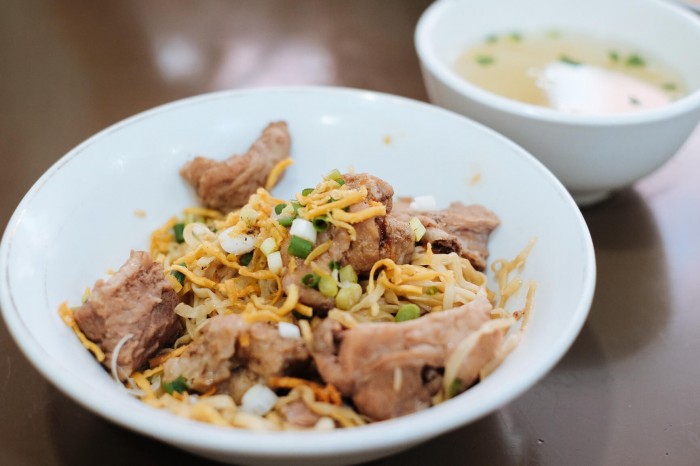 First meal when back in Yangon – dry Shan noodles with pork ribs at 999 Shan Noodle Shop. Add their chilli and you get a killer winning combination so good that we came back the next morning for one more round.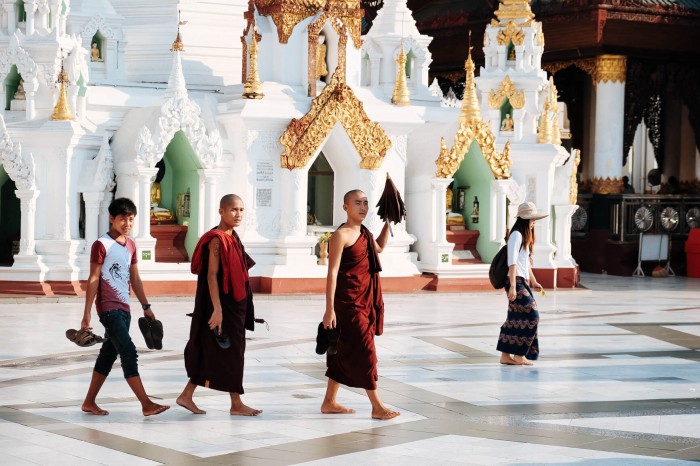 We paid a visit to the mighty Shwedagon Pagoda (US$8 per entry) in the late afternoon after checking into our hostel.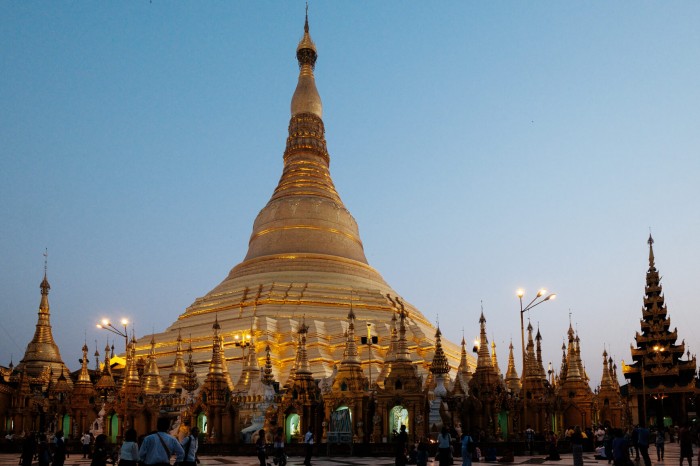 The pagoda is the biggest in Yangon, it's 99m tall and you will definitely notice it from afar, especially on the way to the airport and back. I believe it is the most sacred pagoda in the country, and thousands of Buddhists visit this place daily for their pilgrimage.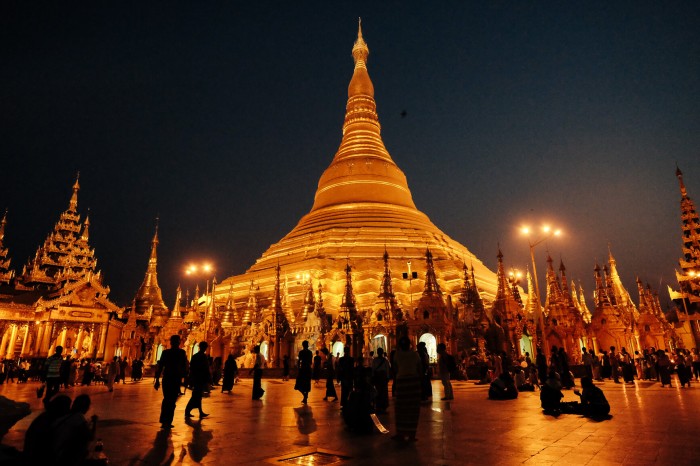 At night, the temple glows in a brilliant yellow.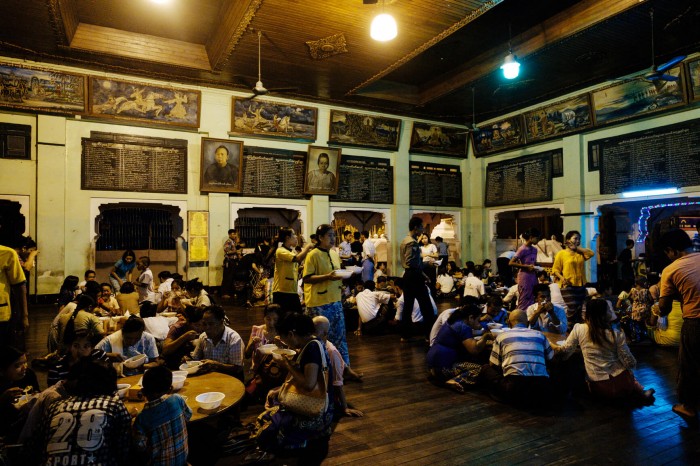 It was also coincidental that on our last night here, the temple was celebrating a birthday and was offering free food to temple-goers. I was really humbled by their close community. It's a close-knitted affair, having dinner with strangers. It reminded me of why I love this country despite the heat – the people are generous, friendly, hospitable and best of all, always happy.
Concluding Thoughts
Spending a week in Myanmar – one of the least-developed Southeast Asian country – has been one of my most memorable trips to date. While it is no doubt that the unforgiving weather might have dampened our spirits once in a while, the beautiful country, friendly people and inspiring journey will continue to live in my mind and heart. Myanmar offers some of the best in Southeast Asia in terms of people, food and sights. If you can forgive the developing infrastructure, language barrier and expensive tourist taxes, you'll be in for a really good treat.